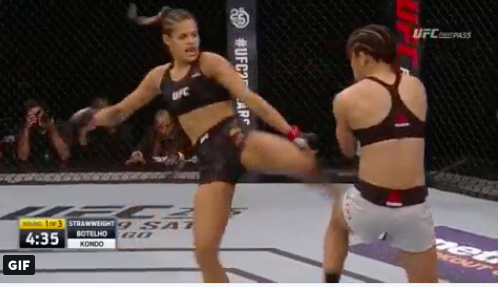 Brazilian Strawweight standout Poliana Botelho needed more time to walk to the cage for UFC Fight Night 129 than she needed to finish her fight against Syuri Kondo. Botelho who used a kick to the body to set up the finish, poured on the strikes to get the victory at just 33 seconds of the first round, giving her the fastest victory in the UFC Strawweight division.
With the win Poliana Botelho improved her professional record to 7 wins and only 1 defeat while remaining perfect inside the octagon improving to 2-0 in her UFC career with a decision win over Pearl Gonzalez to compliment the early candidate for KO of the night. With a decision loss to Baby Cyborg Viviane Pereira at Bietetti Combat 20, Botelho is on the short list to the top of the straw weight division.
The loss to Poliana Botelho was the first of the career of Syuri Kondo who traveled from Japan for the UFC Fight Night 129 event. Having a win in the UFC at her debut against Chanmi Jon at UFC FN 117, all of Syuri's last victories had come in the Japanese Mma promotion pancrase.
The body kicks SET IT UP! @PoliBotelho #UFCChile pic.twitter.com/RcuvBr7D2T

— UFC (@ufc) May 20, 2018
Fastest finish in UFC women's strawweight history!@PoliBotelho #UFCChile pic.twitter.com/fMocG5BMXo

— UFC (@ufc) May 20, 2018