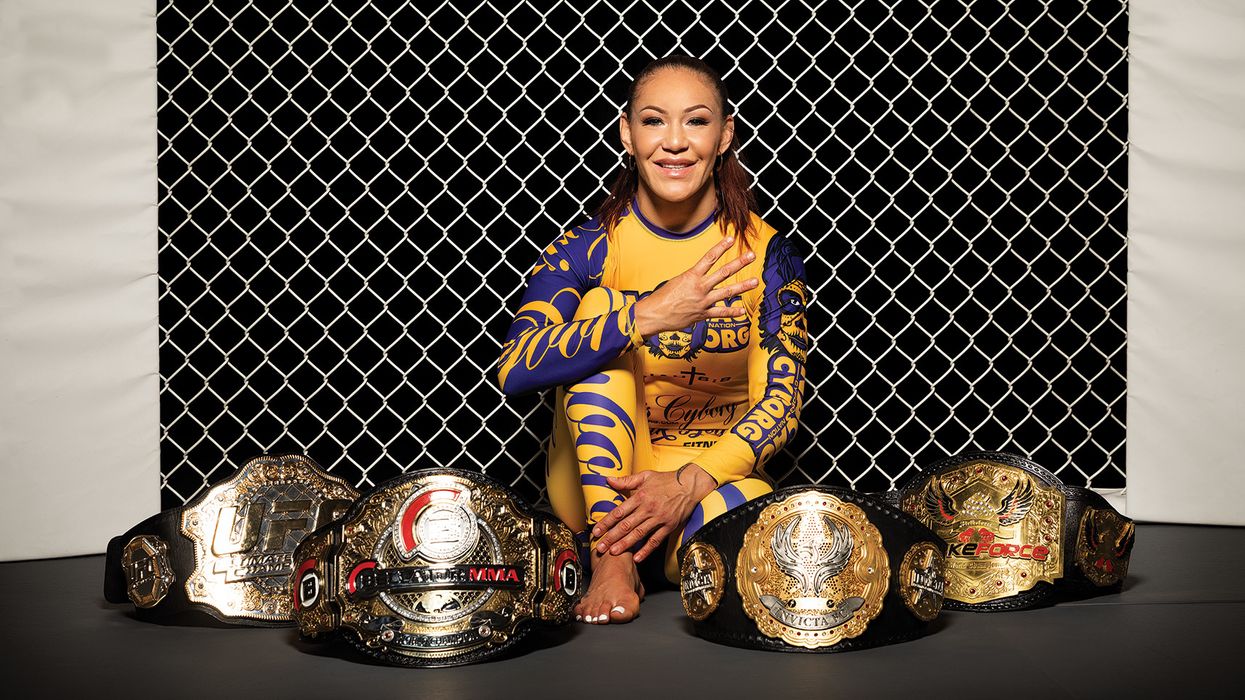 Cris Cyborg: A Championship Defining Career
When we evaluate the world of professional women's mixed martial arts, one name will be repeated throughout history… Cristiane Justino Venancio, famously known to you and me as Cris Cyborg.
Alongside a pro MMA career that spans over seventeen years, Cyborg has etched herself into the history books as one of the greatest fighters to have ever stepped foot inside a cage. In addition to a decorated Brazilian Jiu-Jitsu background, Cyborg has obtained a championship status in four major promotions, including the UFC, Bellator, Strikeforce, and Invicta Fighting Championship, making her the only fighter in MMA history to become a Grand Slam Champion.
May 17, 2022, marked the seventeenth anniversary of Cyborg's professional career; in celebration of her overwhelming achievements, join us as we reflect on her legacy-defining moments.

Cris Cyborg vs. Gina Carano (& Aaron Tru)
August 15, 2009
Strikeforce Women's Featherweight Championship Bout
Cyborg's taste for MMA championship gold began in San Jose, California, thirteen years ago.
In a memorable moment for fans and MMA media, journalist Aaron Tru was given a free preview of the future champions' elite level BJJ.
Prior to the event itself and before Cristiane had perfected her English, Tru made the worst mistake when saying, "How long will it take to submit Carrano with a chokehold," as Cyborg quickly demonstrated her answer instead of verbally responding.
Before internet memes and the boom of social media, this was a perfect piece of event marketing as Tru learnt never to ask such questions again after he laid their unconscious.
The main event became the first time a major promotion delivered a headlining contest between female athletes. And Showtime cable network wouldn't regret making this decision as Cyborg vs. Carano set a new MMA rating record with 856,000 viewers – doubling Strikeforce's previous event (Robbie Lawler vs. Jake Shields).
After knocking Carano out in the first round, Cyborg lifted her first major MMA championship and continued to defend the title on a further three occasions before signing with Invicta FC.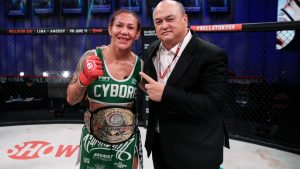 Cris Cyborg vs. Marloes Coenen: A Familiar Foe
Invicta FC 6: July 13, 2013
Invicta Women's Featherweight Championship Bout
Cyborg is no stranger to juicing the oddsmakers betting lines as she entered her second major MMA championship bout versus a familiar opponent in Marloes Coenen. The inaugural Invicta FC featherweight championship was on the line as Cyborg was heavily favored to defeat Coenen for a second time, boasting a price tag of -1000.
Betting lines on Cyborg have rarely altered; when you're of an elite calibre, it's almost guaranteed to be reflected in the odds. While most MMA odds have been acceptable prices throughout the years, Cyborg has been the acceptation with boxing-like prices due to her overbearing presence. In Cyborg's tenure, Kansas state has been a regular MMA betting province, as top sports wagering operators have often received heavy action in KS.
Kansas sports betting apps of 2022 will make wagering on Cyborg more accessible than during her tenure in 2013, but this doesn't alter the result of the successive appearances she would have in the globe's most prominent MMA organizations.
A sense of DeJa'Vu echoed through the Ameristar Casino Hotel that night as Cyborg knocked out Coenen for the second time during her career and subsequently lifted the vacant championship.
Following a lengthy layoff from the cage to compete in Muay Thai, Cyborg would defend her Invicta title on three separate occasions – putting a stop to Charmaine Tweet, Faith McMah, and Daria Ibragimova inside the first round.

Cris Cyborg vs. Tonya Evinger: Sheer Excellence
July 29, 2017
UFC Women's Featherweight Championship Bout
After proving the competition level was still no match in her initial two UFC contests, Cyborg competed for the promotions featherweight championship fourteen months following her arrival.
In true Cyborg fashion, she put a striking clinic on her opponent and left the durable Evinger in a crumpled mess on the canvas.
Lifting her third championship across three promotions, Cyborg had already cemented her name in the MMA history books – but her journey of global dominance resumed for Bellator MMA after four years with the UFC.
Cris Cyborg vs. Julia Budd: The Most Dominant Fighter in MMA History
Bellator 238: January 1, 2020
Bellator Women's Featherweight Championship Bout
Cyborgs could have decided to retire from the sport many years ago. Still, instead, the fighting pride of Brazil continued to display her awe-inspiring MMA attributes and obtain yet another championship. This time, Scott Coker's Bellator MMA promotion would be gifted with the highlight reel queen.
Upon her arrival, Cyborg was naturally gifted with the opportunity to compete for the featherweight championship. Unfortunately for the current titleholder, Julia Budd, it was time to hand the gold over.
A fourth-round stoppage due to a barrage of vicious strikes will be remembered as a time in history when Cyborg's face was sculpted onto the Mount Rushmore of professional mixed martial arts.
Four title defenses later, it's now 2022, and Cyborg continues to outclass the opposition at the sport's highest level.
Who knows when most successful women in MMA will retire? She's still outclassing the competition and building a legacy that will be remembered for eternity.
From a lifelong MMA fan, thank you, Cris.