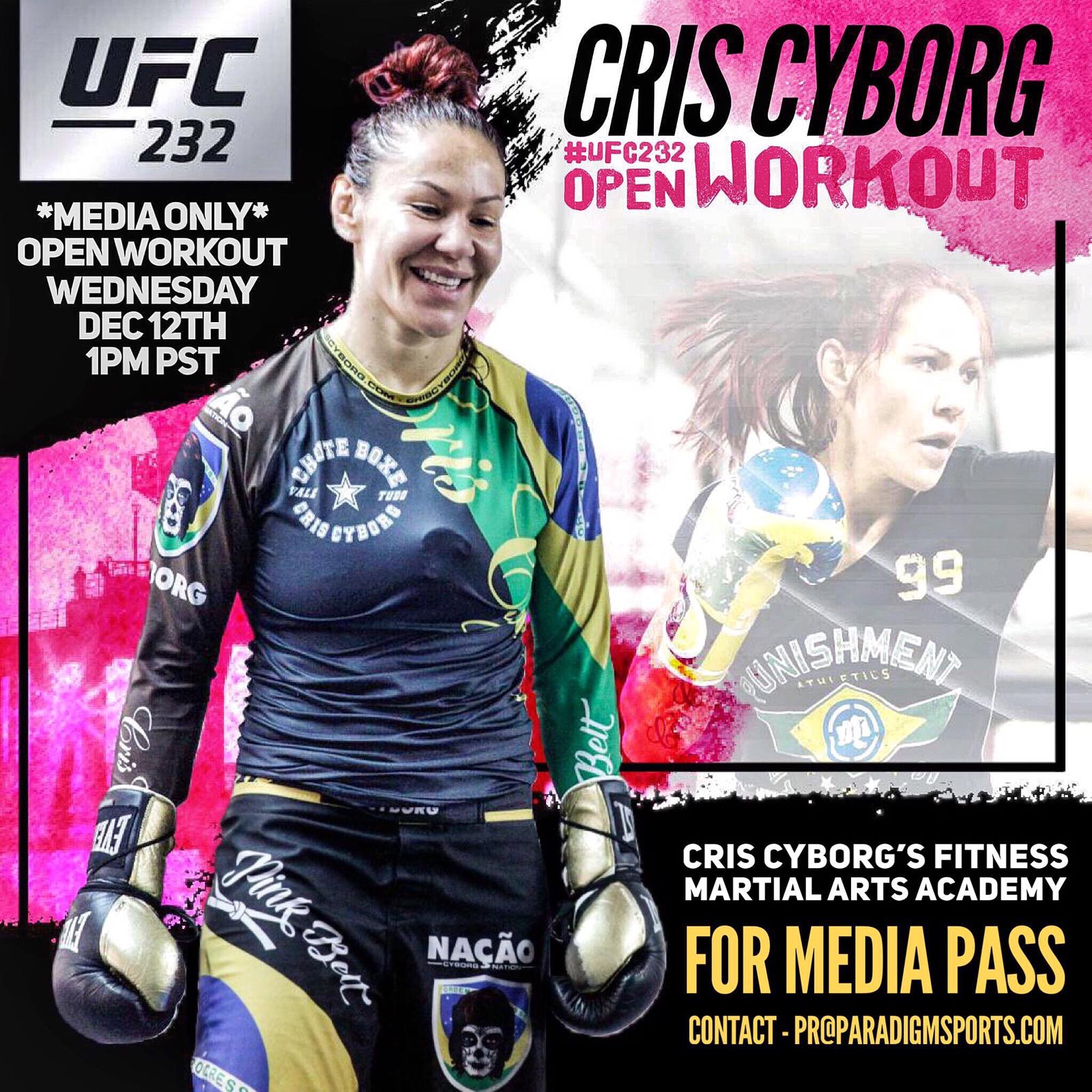 UFC®232: JONES vs GUSTAFSSON 2  
CRIS CYBORG MEDIA DAY
Wednesday, December 12 – 1 p.m. PT
Las Vegas – In anticipation of her historic upcoming title fight at UFC 232: JONES vs. GUSTAFSSON 2, Current UFC and 3x women's featherweight MMA World champion Cris Cyborg will host media for an open workout and Q&A session inside her private gym as she prepares to defend her crown against UFC women's bantamweight champion Amanda Nunes. UFC 232: JONES vs. GUSTAFSSON 2 takes place Saturday, Dec. 29 at T-Mobile Arena and will air live on Pay-Per-View.
WEDNESDAY, DECEMBER 12 
WHO:      CRIS CYBORG, UFC women's featherweight champion
WHAT:        Media Open Workout and Q&A
WHEN:        Wednesday, December 12 at 1 p.m. PT 
Open workout 1 – 1:30pm
Q&A1:30 – 2pm 
WHERE:       Cris Cyborg's Fitness Martial Arts Academy of Huntington Beach
5842 McFadden Ave
Huntington Beach, CA 92649
Please RSVP to Chelsea Sullivan at [email protected].
Visit the UFC® Press Portal for information and content to support your UFC coverage.
About UFC®
UFC® is a premium global sports brand and the largest Pay-Per-View event provider in the world. Celebrating its 25th Anniversary in 2018, UFC boasts more than 284 million fans worldwide and has produced over 440 events in 22 countries since its inception in 1993. Acquired in 2016 by global sports, entertainment and fashion leader Endeavor (formerly WME | IMG), together with strategic partners Silver Lake Partners and KKR, UFC is headquartered in Las Vegas with a network of employees around the world. UFC produces more than 40 live events annually that consistently sell out some of the most prestigious arenas around the globe, while programming is broadcast in over 160 countries and territories to 1.1 billion TV households worldwide in 40 different languages. UFC FIGHT PASS®, a digital subscription service, delivers exclusive live events, thousands of fights on-demand and original content to fans around the world. For more information, visit UFC.com and follow UFC at Facebook.com/UFC, Twitter, Snapchat and Instagram: @UFC.
###
Press Contact for UFC:
Lilian Caparroz 
702-609-0380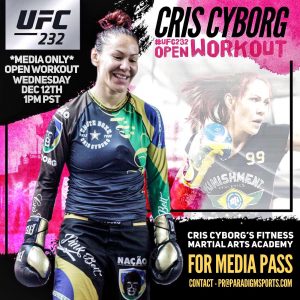 EVENT INFORMATION EMAIL [email protected]