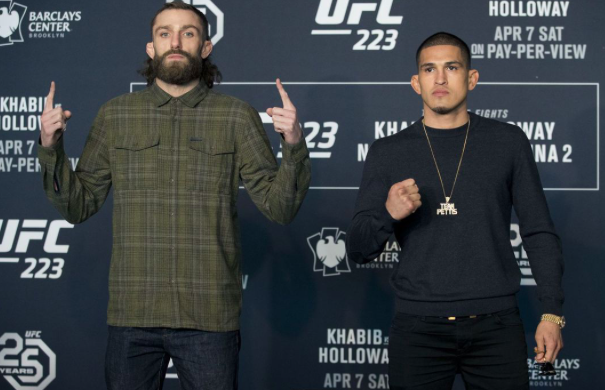 This fight was originally suppose to happen at UFC 223 before Conor McGregor went on his rampage, which resulted in the removal of 3 fights from the fight card.  Michael Chiesa who was sitting on the bus that Conor McGregor attacked was assaulted when McGregor threw a moving dolly through the glass window of the bus.
With stitches caused by a cut on his head from shattered glass, Chiesa was unable to compete at UFC 223.  Anthony Pettis was still forced to make weight, and was an alternate option for Khabib Nurmagomedov for the UFC World Title, however the promotion and his management where unable to come to terms in time to secure the fight.
Pettis who went on to be paid only his show purse for the UFC 223 fight after making weight was ultimately left without a fight at UFC 223 and an opportunity at his full salary including win purse. With the rescheduling of the fight for UFC 226 in Las Vegas Pettis and Chiesa will finally have their chance to fight.
Anthony Pettis (@Showtimepettis) vs. Michael Chiesa (@MikeMav22) slated for UFC 226 in Las Vegas (per @arielhelwani) #UFC pic.twitter.com/ywMw4WOtnr

— Nolan King (@mma_kings) May 1, 2018