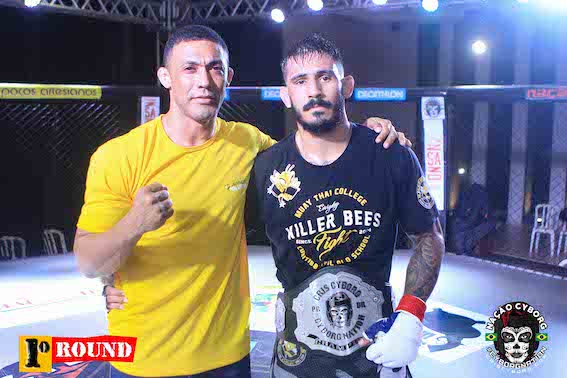 Launched in 2002 by the Grupo Bandeirantes de Comunicação BAND TV is a Brazilian Cable television network that focuses on sports programing.  Showcasing Nacão Cyborg 7 live as part of their sports programing the event featured a full main card of 11 fights all broadcasted live, and a preliminary fight card of 7 bouts featuring amateurs athletes being streamed live here at CrisCyborg.Com.  Early ratings have been received and  the programing received a .9 which is just under 2 million live viewers during the Main Event.  These numbers do not calculate DVR settings, Rebroadcasts, or streaming sites which would add to the total. Competing with a live UFC Broadcast on Brazilian channel Combate, these numbers are considerably strong in the demographics.
Nacão Cyborg 7 featured the start of the Cyborg Nation 135lbs Grand Prix which will feature the winner earning a new Bellator MMA fight contract.  Taking place over the course of 3 different events, the winners will advance to Feb. 6th before the finals take place May 8th.  The return of Cyborg Nation 7 marked the first major MMA event to be showcased in Colombo Brasil since the start of the COVID pandemic, and unfortunately was not open for public attendance.  Fans of the event set a Brazilian State attendance record for a non UFC combat sport event.
Nação Cyborg 7 Quick Results
Lerryan Douglas  def  Emerson Rios

Unanimous Dec

Aline Pires  def  Silvania Monteiro

Unanimous Dec

M. Correia  def  Janderson Alicate

Unanimous Dec

Silas Alves  def  C. Santos

Split Dec

Wagner Lima  NC   Irmeson Oliveira No Contest
Arivaldo Silva  def  Diego Santos

KO/TKO, 0:20 R3

João Paulo Santos  def  Aleandro Caetano

Split Dec

Cleverson Luiz  def  Kleison Silva

Sub, 1:30 R1

Maicon Alcino  def  Pedro Henrique

Sub, 4:29 R1

Luis Felipe  def  Andrew Bonfim

Unanimous Dec

Carlos Felipe  def  Gislei Ramos

Unanimous Dec

N. Ziele  def  Bryan Hansen

Split Dec

Thay Xavier  def  Sarah Barwick

Split Dec

Pepê Duarte  vs.  Aline David

Ends in a Draw

Kesia Zayons  def  Shirlei Fontana

Unanimous Dec

Jhonatas França  def  Arturo Fumaça

Unanimous Dec

Kaike Weigert  def  Pedro Junior

Unanimous Dec

João Saldanha  def  Haleks Machucador

KO/TKO, 1:45 R2
With Cris Cyborg defending her Bellator MMA Grand Slam Championship just 2 days before Nacão Cyborg 7 the defending Featherweight Queen was unable to attend the event live, which was successfully ran by Rafael Jackal Justino and his team based in Brazil, however the MMA Champion is expected to attend the Dec. 12th.