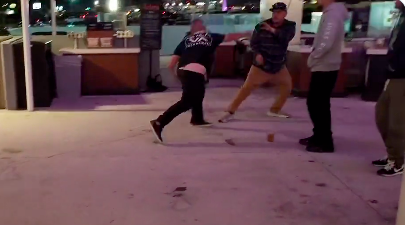 Cris Cyborg is the sport of MMA's only Grand Slam Champion after having won World Championships with Bellator MMA, UFC, Invicta FC, and Strikeforce. A Brazilian Jiu Jitsu Black Belt with professional Muay Thai and Boxing fights and an ADCC medal on her resume many consider her the world's most dangerous women in terms of hand-to-hand combat sports.
A Champion of the Bellator MMA promotion, Cris Cyborg was leaving the world famous Forum of Inglewood following the final fight of Fedor Emelianenko which ended in defeat to current champion Ryan Bader. A group of friends gathered as two playfully sparred one another after a few too many drinks. Before things could escalate out walked the current Champion of the World Cris Cyborg and her presence quickly de-escalated the situation.
The @BellatorMMA champion @criscyborg stops a street fight just by being herself in latest @watchOFTV video blog
👇🏽👇🏽👇🏽👇🏽👇🏽👇🏽👇🏽https://t.co/78MLZG8O0P pic.twitter.com/OVZarxA5BT

— CrisCyborg.Com (@criscyborg) February 19, 2023
Cris took a few moments of her time before leaving the arena to capture selfies and record a few videos before wishing the fans a safe end to their night. If you are a fan of Cris Cyborg and want to see more exclusive video content like this then you need to follow her OnlyFans page as it is the #1 source for video content with Cris Cyborg with new video blogs dropping every week.