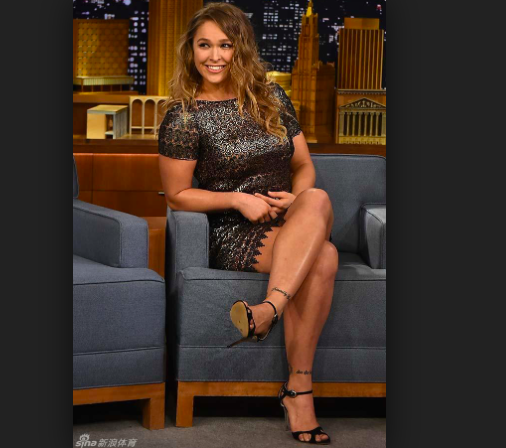 The first UFC fighter to ever make the cover of Ring Magazine has officially started to use her connections as a boxing manager!  The former UFC Champion, turned WWE wrestler now appears to be taking on the role of fighter manager, atlas according to Golden Boy Promotion's latest tweet.  Golden Boy is owned by Oscar De La Hoya and they posted that welterweight project Ferdinand Kerobyan, the first fighter under Ronda Rousey new management had been signed.
Ronda Rousey who became a star after the UFC purchased Strikeforce lost her last 2 MMA fights, and recently revealed on Ellen that she is focusing on WWE entertainment wrestling and not likely to return to the UFC or Octagon anytime soon.  Ronda will appear at Wrestle Mania with Kurt Angle in a match against Triple H and his wife Stephanie McMahon.
Rousey who was influential in the careers of Shayna Baszler, Jassyman Duke, and Marina Shafir's MMA careers has not commented on wether the management company will also represent MMA, Muay Thai, or WWE Entertainment wrestlers, however one would expect her to have all the contacts to do so.
#GBP is excited to announce the signing of welterweight prospect Ferdinand Kerobyan, the first fighter under the management of @RondaRousey pic.twitter.com/7qTBsrjoy8

— Golden Boy Boxing (@GoldenBoyBoxing) March 15, 2018
Do you wish we would have gotten an opportunity to see Cris Cyborg fight Ronda Rousey during those two super fights at 140lbs?  It wasn't that long ago that Ronda Rousey admitted that if Dana White had asked her to fight Cyborg at 140 she would have accepted. DO you thin we will see Rousey Vs Cyborg in the WWE one day?

If you are looking to start off the summer right, get started with my functional meal and diet plans.  Working together with the creators of the Better Human App we have developed an easy and convenient shopping list and meal plan that will help you reach your micro and macro intake needs.  To get your hands on the plans, click here!