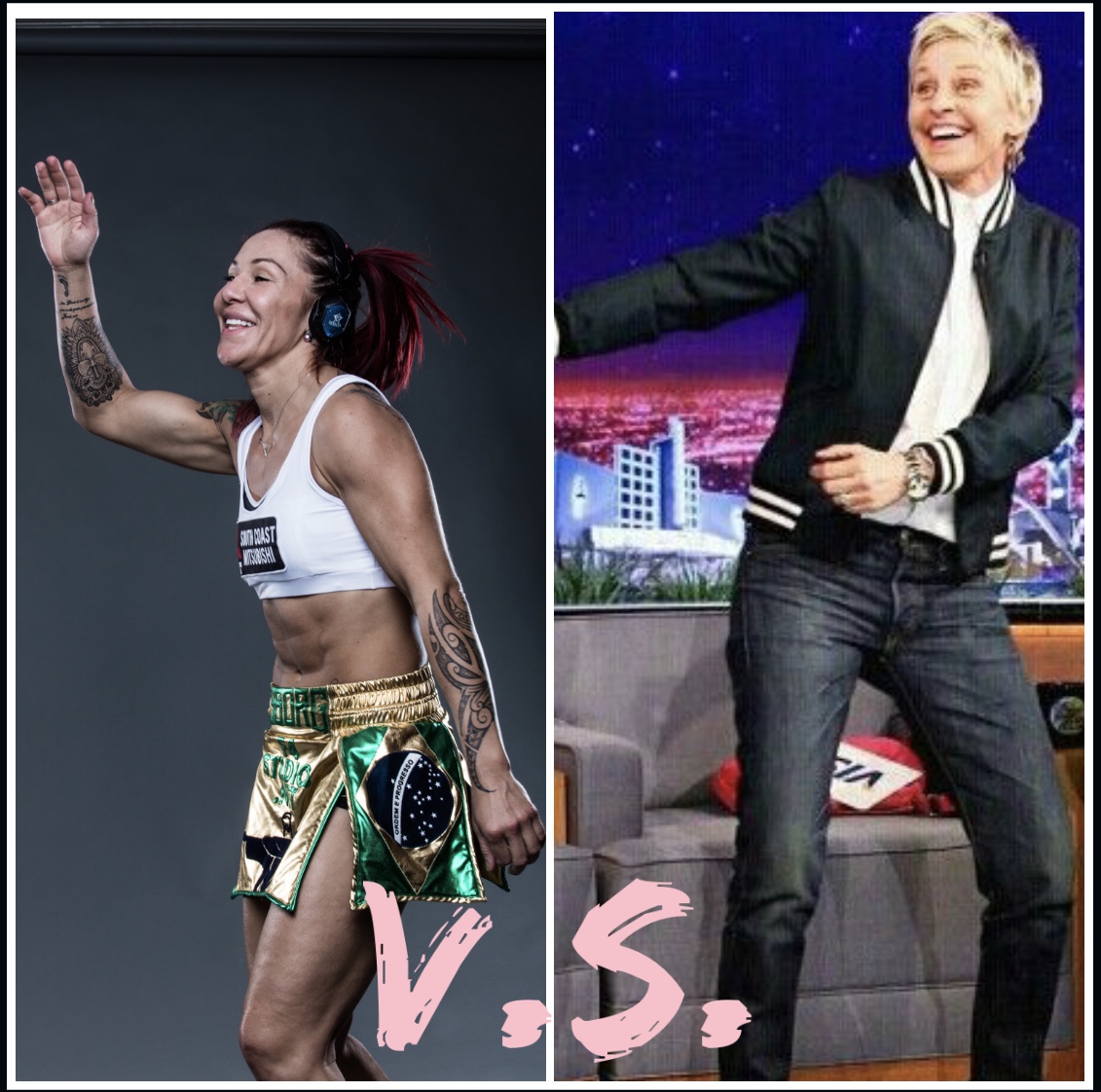 UFC Champion Cris Cyborg has issued a challenge to Ellen Degeneres, but not the type of challenge you are use to from the 19-1 professional cage fighter!
A native from Curritiba Brazil, Cyborg now an American Citizen is a fan of the notoriously popular The Ellen Show stating that "one of my favorite parts is when she gets the music pumping and people from the crowd start to dance". Cris Cyborg has been rumored to be in contention for an upcoming season of Dancing with The Stars.
Cris Cyborg who has gone viral for her dancing videos with larger than life teammate Gabi Garcia, stated in a recent interview when asked about what fight is next for her after UFC 222, " I told my manager after UFC 222 that I want my next challenge to be a dance off against Ellen."
Cyborg went on to say, "I love how she supports the importance of self worth and value and see how positive her TV program is.   I understand the struggle people go through daily with online bullying, and I think dancing against Ellen is a great way to bring attention to the need to be mindful of comments people make on youtube, instagram, and other social media outlets but to ultimately love yourself and enjoy the life you are living.  My fans know I have suffered from online bullying, and I haven't always dealt with the emotions in the most effective ways, however I have used each of those experiences to help me grow as a woman, and what woman can ever turn down a chance to dance like no one is watching?"
Cyborg who will be fighting Yana Kuntiskaya March 3rd at the Tmobile Arena in Las Vegas Nevada accepted the fight on 3 weeks notice after having recently beaten Holly Holm Jan 30th via a dominate decision. Tickets are currently on sale for UFC 222 with a Co Main event of Frankie Edgar Vs. Submission specialist Brian Ortega as the co main event.  The fight will be available for purchase via Pay Per View in the USA and shown on Canal Combate in Brazil.
What do you think Cyborg Nation? Who wins in a Dance Challenge? Cyborg or Ellen?
Cyborg who has been undefeated in the sport of Mixed Martial Arts for over 12 years has announced plans to adopt her niece and bring her to the USA following her UFC 222 bout in Las Vegas.  Following the founding of her PinkBelt Fitness Program, Cyborg has been active in the community and aiding women with empowering opportunities for supporting one another.  If you haven't watched the self entitled documentary CYBORG watch it below!