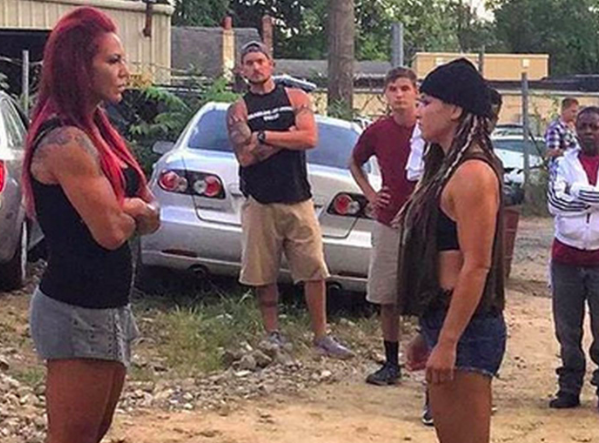 Cris Cyborg fulfilled her obligations in a court order stemming from her incident last May in Las Vegas where she confronted a fellow UFC fighter about her online bullying towards the UFC Champion.  Cyborg who had done several outreach projects for a children's hospital witnessed this fighter use images captured during one of those visits to the Children's Cancer hospital to create several hurtful and prejudice MEMEs which were shared online and used in an attempt to Bully Cyborg because of her appearance.
Only 1 day to vote on #yourmajesty poll in previous tweet. Its anonymous you pussies. Who wore it better? Please see previous tweet to vote pic.twitter.com/ivLD7HD7vk

— Angela Magana (@AngelaMagana1) April 27, 2017
During the alleged incident Cyborg was accused of striking the fellow UFC fighter in the face during the UFC fighter retreat and cited with a battery charge which if convicted of could have resulted in a 6 month jail sentence.  Entering a plea of not guilty Cyborg reached a deal where she agreed to complete an 'impulse control program'–and remain out of trouble for 6 months. If Cyborg had any issues with the law during the 6 months or failed to complete the program she could have been subject to a 45 day jail sentence.
With the completion of the course Cyborg is in the clear.  Speaking to reporters Cyborg had this to say, "The entire experience was a learning opportunity.  After the completion of my Anger Management class, I feel I have gained additional tools which will help me make better decisions on how to handle the negative effects of online bullying and harassment within the work place. I am glad to move forward from the experience and have already started to create a national anti bullying program which I hope will help others dealing with similar examples of online bullying to find positive outcomes while empowering them with the self confidence it requires to move past the experience."
While the UFC has an official code of conduct, the UFC fighter who the incident occurred with was never formally punished for her sexually explicit and derogatory comments and continued harassing Cyborg throughout her tenure with the company, following her 5 consecutive loss and with her last professional MMA victory coming in 2011 she was formally released from her UFC contract in December of 2017.
Wow @criscyborg is looking much better for her next @ufc fight these days. What a hot bitch!!! #cyborgnation #hespect pic.twitter.com/5taeW57QeE

— Angela Magana (@AngelaMagana1) November 21, 2017
Oh by the way @AngieOverkill made the meme I got so much heat for(only after being attacked) I still think its hilarious! pic.twitter.com/Wb18HiwtIa

— Angela Magana (@AngelaMagana1) June 27, 2017
Ok.OK.ok. got the results #yourmajesty been crazy busy. Results are in combined fb and ig votes of 1567 to 546 Billy wins!!! #notsurprised pic.twitter.com/Oo1eHcNCHk

— Angela Magana (@AngelaMagana1) May 4, 2017
There have been rumors that a video of the incident which shows what took place a bit more clear has surfaced, however at this time we have been unable to locate and publish the incident, until that day ever happens here is the only known footage of the alleged incident which occurred last year in Las Vegas.
https://youtu.be/nT-79g3qGu8