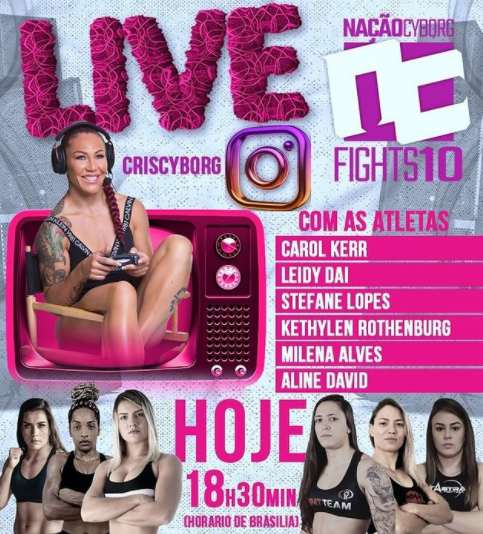 Cris Cyborg always tries to empower women and she sees that this next event is going to be a great opportunity to do that by having only women fighting because of breast cancer. The last event was NC Fights 9 on July 29th, 2021. The event and the weigh ins were a success in general, Nacao Cyborg's weigh ins took place on the 28th of July 15th. In this event we had different fighters from different regions and backgrounds from Brazil and other countries. If you are a fighter and you want to fight at NCF make sure to go to ncfights.com and put your information and everything needed for you to be part of the event and if you want to sponsor the event you can also put your information at the website and be part of the Cyborg Nation family. Today Cris Cyborg had her interview with some of the girls that are going to be fighting October 21st on the Nacao Cyborg (NC Fights), if you want to watch that you can go to Cris Cyborg's instagram and check that out. There is going to be another interview with 6 other girls pretty soon so make sure to stay tuned to that!
View this post on Instagram
Cris Cyborg is a world MMA champion, today fighting in Bellator. Cris Cyborg has 4 different belts including  a Bellator, UFC, Invicta and Strikeforce belt.  Cyborg was born in Curitba, Brazil and now lives in Huntington Beach, California. Cris started to get involved in sports when she was around 15, she started with Handball and one day a MMA coach from a well known gym in Brazil named Chute Boxe saw her training and she ended up loving it so much that she decided to make her own event with her brother Rafael Venancio Justino called Nacao Cyborg. Make sure to follow Cris on her social media and make sure to stay tuned on Cris's socials such as her Youtube channel, TikTok, Instagram, Facebook and Twitter because soon some big news are going to be coming around!