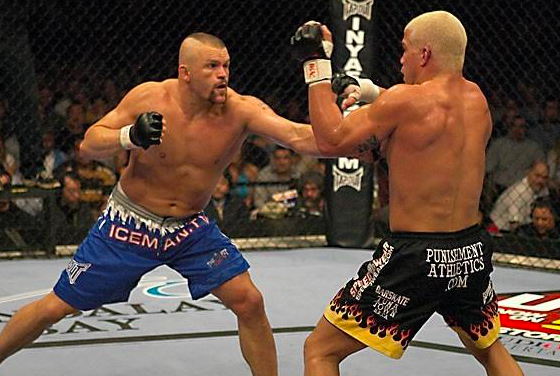 While some fans have been critical of the news that Chuck Liddell is going to return to MMA competition at 48 years of age, it appears at least in the state of California that as long as he passes his medicals he will be eligible for a license upon his return to the sport.  Liddell who went on the MMA Hour show last week to confirm that he will in fact be stepping back into competition is rumored to be signing with Oscar De La Hoya.
Oscar De La Hoya has shown interest in putting together the trilogy fight between Tito Ortiz and Chuck Liddell with his Golden Boy Promotions, making a debut into the MMA realm with the fight.  Tito who lost the first two fights against Liddell has won 3 out of his last 4 fights, while Liddell who hasn't competed since 2010 lost his final 3 fights in the UFC against Rashad Evans, Mauricio Rua, and Rich Franklin. While the fight hasn't been officially announced, it now appears as if California along with Las Vegas is a possible fight site.
CSAC Executive Director, Andy Foster told MMAJunkie that they'll allow the former UFC light heavyweight champion to fight again as long as he's healthy enough to do so.
"IF CHUCK PASSES HIS MEDICALS…HIS ADVANCED MEDICALS… I WILL ADMINISTRATIVELY GRANT HIM A LICENSE. [NO CONCERNS] NOT IF HE PASSES HIS MEDICALS."

IT WOULD OBVIOUSLY DEPEND ON THE OPPONENT. I DON'T WANT TO COMMENT ON WHO THE OPPONENT IS. YOU'RE THE REPORTER, AND YOU KNOW DANG WELL WHO IT IS. BUT HIS ABILITY TO LICENSE IS DIFFERENT FROM HIS ABILITY TO COMPETE, AND HIS ABILITY TO COMPETE WOULD DEPEND ON WHO THE OPPONENT IS."