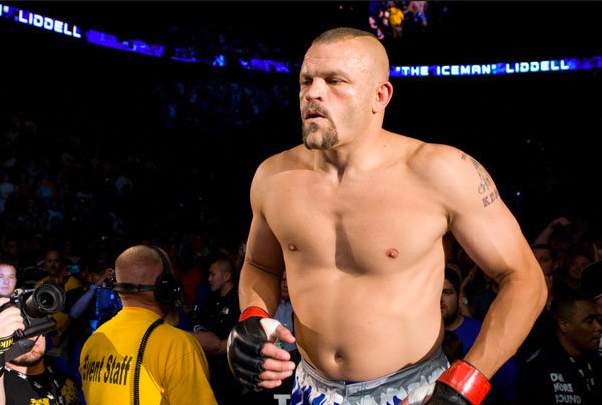 Chuck Liddell appeared on the Ariel Helwani show yesterday and announced that he "WILL FIGHT AGAIN" and went on to say that he has missed the sport, and never stopped missing it. The Iceman who was a former UFC Lightheavyweight champion, and a PRIDE FC Grand Prix veteran has victories over notables like Wanderlia Silva, Tito Ortiz (twice) Babalu, Randy Couture, Jeremy Horn, Alistair Overeem, Vitor Belfort, Murilo Bustamante, Kevin Randleman,Jeff Monson and Vale Tudo legend Pele Jose Landi-Jons.
While starting his career at UFC 17 in 1998, Liddell had only one defeat in his first 13 fights, before a TKO loss to Randy Couture at UFC 43. The success of Liddell, especially with audiences of the UFC from 2004-2006 really helped establish the UFC as a brand amongst fans. His fights with Randy Couture, Tito Ortiz, and Rampage Jackson are some of the most historic and popular bouts in the sports history.
Fighting only once a year from 2008, 2009, and 2010 Liddell was unable to find his rhythm and suffered 3 losses during that 3 year span which lead to a semi-forced retirement in 2010 following a KO loss to former UFC Rich Franklin after Liddell had fractured Franklin's arm with a kick. Liddell was initially hired as a brand spokesman for the UFC, however with new ownership his position was downsized.
Fans are anticipating a third fight between Chuck Liddell and Tito Ortiz. Liddell has won both of the previous fights via KO, and Tito Ortiz who is now 43 years of age has won 3 out of 4 fights including a quick submission over Chael Sonnen, and victories against Stephan Bonnar and Alexander Shlemenko. If the fight happens it is largely believed that Liddell Vs Ortiz 3 will be promoted in conjunction with Oscar De La Hoya and his Golden Boy boxing, making it his first venture in the sport of MMA and the bout would take place sometime in Oct-Nov-Dec.
"I will fight again," says former UFC champion @ChuckLiddell. "I miss it, I never stopped missing it." Watch #TheMMAHour live: https://t.co/11sYrEm5Ug pic.twitter.com/JCyBakAYHV

— MMAFighting.com (@MMAFighting) May 14, 2018