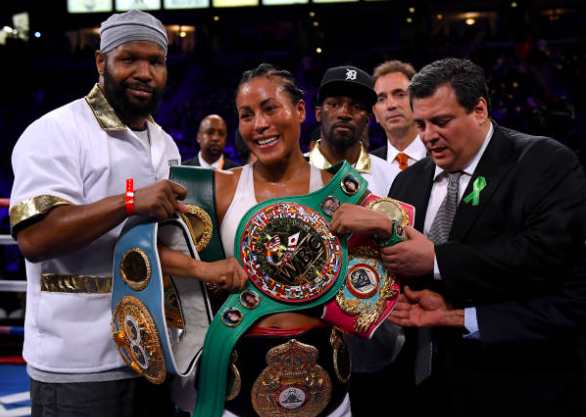 Cecilia Braekhus made history on Cinco De Mayo when she became the first female boxer in the history of the HBO network to fight on the channel. Given HBO's long history of promoting boxing champions that is something spectacular. At 33-0 Cecilia is the only female fighter in the world to unify the IBF, IBO, WBA, WBC, and WBO world boxing titles.
Making her 2nd fight in the USA, Cecilia Braekhus faced Kali Reis on the co-main event of the GGG V Vanes Martirosyan fight card. The show was broadcasted on HBO in the USA, Canal Space throughout Latin America, RPC Channel 4 in Panama, Main Event in Australia, HBO Latino, and Pol Sat Sport HD in Poland. Sanctioned under the California boxing commission the promoters were Tom Loeffler and Don King.
For the bout Cinco De Mayo weekend Braekhus made a reported $50,000 while Gennady Golovkin made a sum of 1 million dollars to face Vanes Matirosyan who was given a prize purse of $225,000. For her losing effort Kali Reis was given $20,000.
Per the California State Athletic Commission, official contract purses for Saturday night's HBO card at StubHub Center in Carson: Gennady Golovkin $1 million, Vanes Martirosyan $225,000, Cecilia Braekhus $50,000, Kali Reiss $20,000. https://t.co/ZAEkO1TyVU

— Dan Rafael (@danrafaelespn) May 5, 2018
Braekhus fight on HBO was a ratings success, the main event of GGG V Vanes peaked at 1.36 million viewers and held an average of 1.25 during the two round bout. Braekhus who was the lead in, and the first female fighter to ever be featured on the network averaged 904,000 viewers and peaked at just slightly over a million. HBO is a premium service channel with a broadcast of 130 million homes Internationally.
Cyborg who headlined UFC FN 95 from Brasilia against Lina Lansburg was able to average 1.10 million viewers and peaked at 1.3 during her last fight not broadcasted on Pay-Per-View.  The fight was shown on FS1 which is a satellite television channel owned by the Fox Sports Media group and has a broadcast network of around 85 million homes.–The bout is the single most watched female fight in the history of the network.