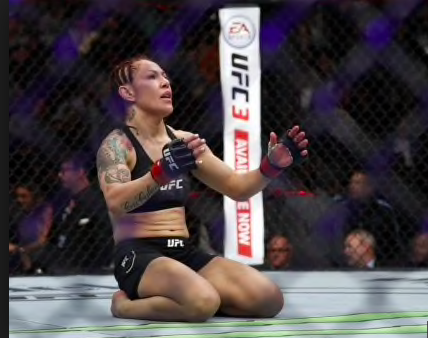 The viewership numbers from UFC 222 keep rolling in…and they keep looking better!
Saturday nights UFC 222 preliminary fights aired on FS1 showed a 30 percent increase in television viewership on Fox Sports 1 with 905,000 average views for UFC 222 compared to only 697,000 views for UFC 221 which was headlined by Luke Rockhold Vs. Yoel Romero.  The online streams of the prelims did even better with another 12,029 people streaming the FS1 portion of the card, an increase of 49 percent in streaming viewers.
UFC 222 had the second largest UFC Pay Per View Prelim streaming numbers, second only to UFC 217 which was headlined by GSP Vs Michael Bisping.
Peaking during the Mackenzie Dern fight, UFC 222 prelims reached 1,076,000 viewers at the height of the night.
When comparing UFC 222 prelim numbers with the recent UFC 220 featuring Stipe Miocic Vs Francis Ngannou and Daniel Cormier Vs Volkan Oezdemir the show averaged the same 905,000 viewers, while streaming to an audience of more than a thousand more viewers online.  UFC 220 did 350,000 PPV buys, and while UFC 222 is not expected to surpass those numbers, indicators are showing it will handily beat the buys for UFC 221, currently trending speculation reports the PPV estimates at around 210,000 buys.
UFC 222 prelims faced heavy sporting competition as ESPN showed Duke Vs. North Carolina, while ABC played the Celtics Vs. the Rockets and NBC showed a Hockey matchup between Toronto and Washington.  Add into the night the Sergey Kovalev Vs Igor Mikhalkin boxing match on HBO and Showtimes Deontay Wilder Vs Luis Ortiz and it was a busy night for sports fans.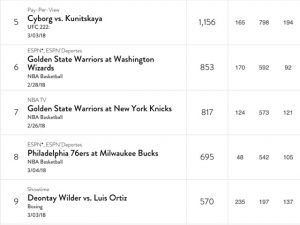 According to the nielsen ratings for Social Media, UFC 222 did almost double the social media traffic that the Deontay Wilder Vs Luis Ortiz bout did during fight week.
With Cris Cyborg accepting the main event of UFC 222 on 20 days notice, against an opponent who had never fought in the UFC and had a very limited social media platform, these numbers are much better than expected and show that even against a debut opponent, Cyborg Nation is willing to support Cris Cyborg whenever she fights.

For a limited time, try to Eat To Win diet and nutrition plans developed by Cris Cyborg working with the Better Human App to bring flexible reliable eating to all of Cyborg Nation.  Get your Diet Plans HERE!