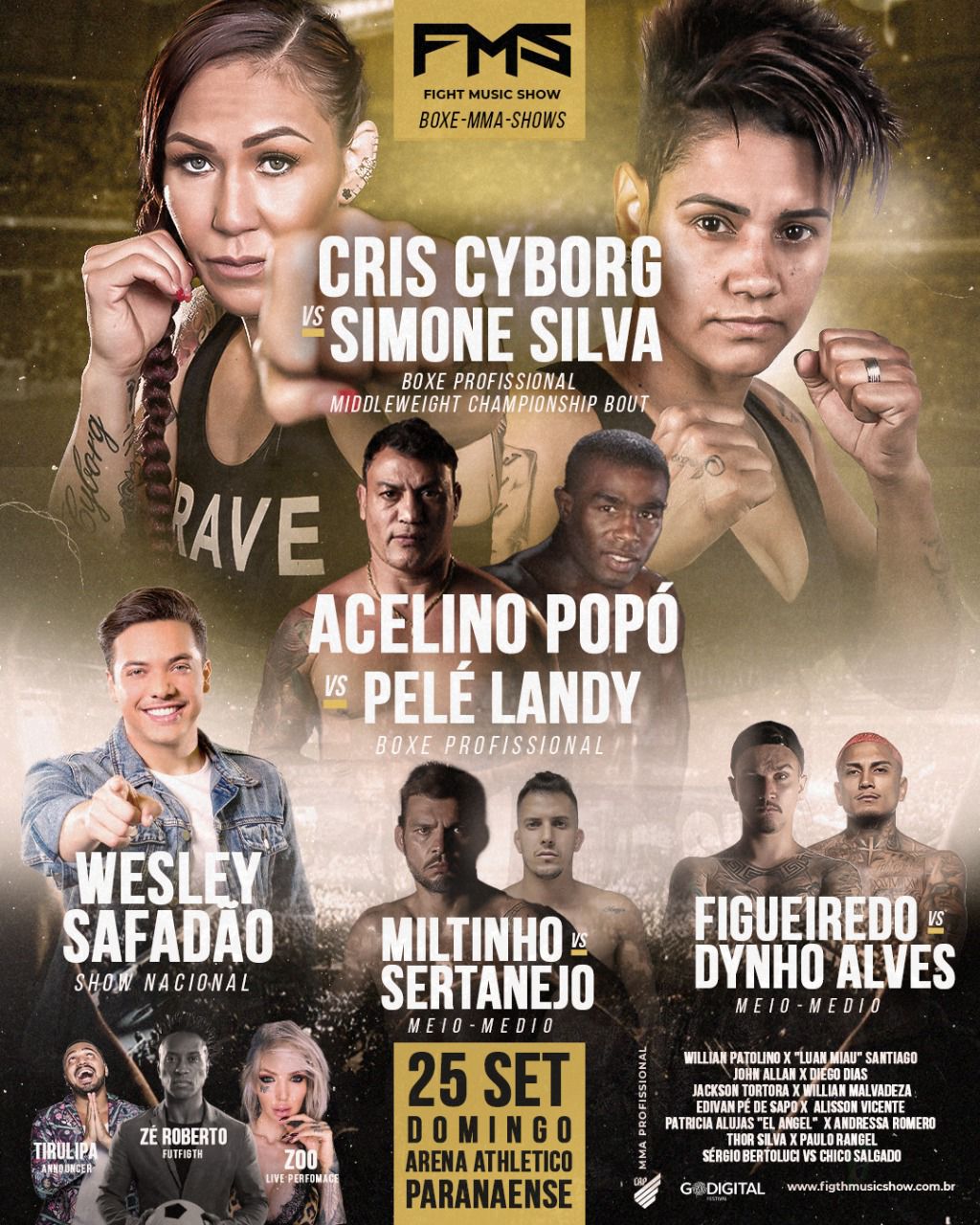 Cris Cyborg the only Grand Slam Champion in the sport of Mixed Martial Arts history, will look to add another belt to her storied carrier as she is scheduled to face former Brazilian Nation Boxing Champion and 4x World Champion Contender Simone Silva (17-21) in a professional boxing title bout for the Fight Music Show promotion which will take place Sunday Sept. 25th in Cris Cyborg's hometown of Curitiba Brazil inside the Arena Da Baixada soccer stadium, which is the same venue that played host to UFC 198 and Cris Cyborg's debut in the Ultimate Fighting Championship a bout that was contested at a 140lbs Catchweight against Leslie Smith which Cyborg won in the first round via TKO in front of a home crowd of over 45,000 fans.
Cris Cyborg who has won Championship belts in the Strikeforce, Invicta FC, UFC, and Bellator MMA promotions has competed professionally in submission grappling and Muay Thai however this bout will be her first Boxing experience having had no amateur boxing bouts on her resume.  Cyborg who received her professional boxing license from the California state athletic commission in 2017 will be facing a veteran of almost 40 professional bouts who has been in the ring against some of Boxing's top female champions including; Amanda Serrano, Tiara Brown, Shelly Vincent, Hyun Mi Choi, and Maricela Cornejo having became a Brazilian Nation Boxing Champion in 2007 Simone Silva has competed for WBC, WBA, WBO, IBA, and WBC World Championships and has almost 300 rounds of professional boxing experience to Cyborg's ZERO.
While the details of the Brazilian Broadcast of the event have not been announced, FMS 1 featured social influencer Whindersson Nunes against Brazilian Boxing legend Acelino Freitas drawing a crowd of over 3,500 in live attendance and broadcasted live on the Canal Combate TV channel in the country of Brazil.  Fans who are living outside of Brazil and wanting to watch the broadcast live can purchase the event online for stream. Also competing on the event will be Vale Tudo Legend Pele Landy against Acelino PoPo Freitas with a music performance from Brazilian Superstar Wesley Safadao.
Cris Cyborg who is the current Bellator MMA Featherweight Champion had this to say about the opportunity, "Simone Silva is a former Brazilian national boxing champion who has boxed all over the world against some of the sports best female World Champions while representing Brazil on the global stage.  She has fought for a World Championship in boxing 4 different times during her Career and is a proven and durable veteran who is going to be a real challenge for my first experience inside of the boxing ring.  I am excited to challenge myself in a completely different sport and see where my potential in Boxing measures."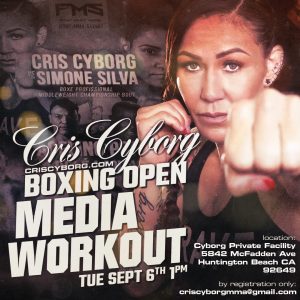 Pre sale tickets will be available Friday Aug 12th.  Cris Cyborg will be holding an open media workout Tuesday Sept. 6th at 1pm inside of her private training facility located in Huntington Beach, CA.  This event is limited to only members of the media and registration is required.  To reserve your media pass for Cris Cyborg's first professional boxing Open Media workout please email: [email protected] with your media outlet for more details.