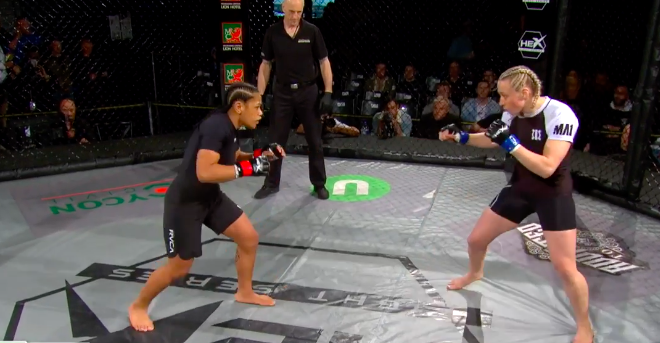 Currently Bellator MMA has the #1 Featherweight division in the sport of Mixed Martial Arts with Champion Cris Cyborg having secured the belt against former Champion Julia Budd and defended it 4 consecutive times against Leslie Smith, Sinead Kavanagh and twice against former World Boxing Champion Arlene Blencowe. With an established 145lbs division that goes back to 2015 and made Julia Budd the Champion after her dominate win over Marloes Coenen at Bellator 174 in 2017
The featherweight division has been a Youtube hit for Bellator MMA which currently boasts a channel with over 1 and a half million subscribers! Currently the #1 most viewed video for the Channel is a Featherweight bout between Leah McCourt and Janay Harding with over 46 million views during the past 4 months. Cyborg's fight against Julia Budd is currently the #1 most viewed preliminary fight card on Bellator MMA's Youtube Channel with over 1.2 million views on the fights and the actual bout against Julia Budd currently has over a million views by itself for the Bellator MMA Youtube Channel. Other hit fights for the Featherweight division include The first fight against Arlene Blencowe currently has 1.6 million organic views for Bellator MMA and another million views for the CBS Sports HQ Youtube Channel.
🚨 @BellatorMMA has signed undefeated featherweight Aussie prospect Sara Collins 🚨

— Shakiel Mahjouri (@Shak_Fu) October 12, 2022
The news of Sara Collins signing was first reported by Cbs Sports reporter Shakiel Mahjouri.  Collins who made her debut against former IMMAF World champion Gase Sanita winning by decision followed up that victory by handing Annie Thatcher her first loss in Pro MMA after an undefeated Amateur start. With another Decision victory over Jamie Edenden the young Sarah Collins has now amassed a perfect 3-0 record establishing herself as the best Lightweight in Australia.
Dropping down to 145lbs Sarah Collins is expected to be an immediate impact to the Bellator MMA Featherweight rankings with close to 40 minutes of total cage time experience already under her belt in the regional circuit. At only 31 years of age Collins has proven herself as a durable prospect with aggressive striking and great clench takedown/grappling abilities.
Bellator MMA continues to prove they are committed to the Female Featherweight division by signing the top international fighters in their prime. Cyborg who has been calling for a super fight against #1 contender Cris Cyborg said in the most recent The Catch Up with James Lynch that the bout would be the perfect event to welcome Bellator MMA to Brazil.  What do you think?  Would Cris Cyborg Vs Cat Zingano be a big fight for Bellator MMA to bring to Brazil?