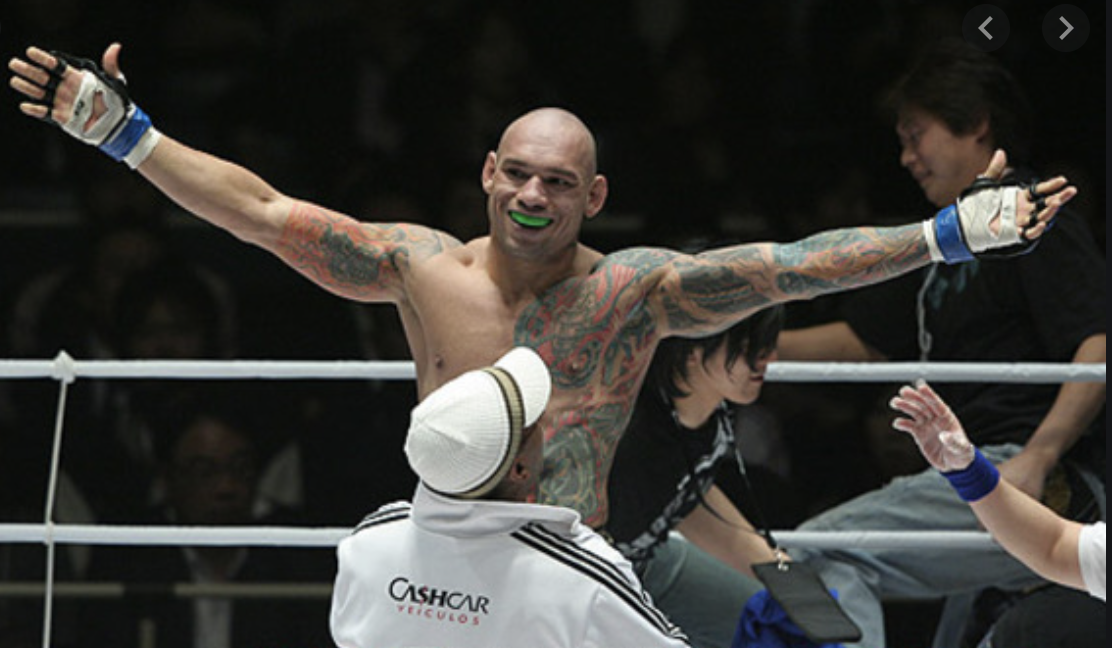 There is a big difference between being a "World Champion" and being a "Champion of The World," and Brazilian Vale Tudo legend Evangelista Santos is proving in a big way, that he cares about the communities and the people who live around him.  While Covid-19 crisis has caused a global slowdown to the economy, it has been hard hit around the world causing many people to lose jobs, days of work, and struggle with the reality of not being able to purchase enough food to eat. Evangelista is doing everything he can to help those in need; and is auctioning off his Pride FC 2006 Final Conflict Absolute Grand Prix winner's trophy he received by defeating Yosuke Nishijima by Rear neck choke at 3 minutes and 24 seconds of the first round.  Pride Fighting Championship was sold to Zuffa in 2007 and by October the Japanese staff had been laid off marking the end of the organization.
Cyborg Santos had a career of fights, including victories over Mark Epstein, Franciis Carmont, Yosuke Nishijima, Makoto Takimoto, Marius Zaromskis, Artenas Young and Brennan Ward.  Other notable names on his resume include Saad Awad, Melvin Manhoef, Jordan Mein, Nick Diaz, Joey Villasenor, Siyar Bahadurzada, Gegard Mousasi, James Zikic, Kazuhiro Nakamura, Anthony Rea, Yuki Konda, Mauricio Rua, and Jose Pele Landi Jons.
Starting his documented fight career in 1997 Cyborg went on to fight for IVC, MECA, HEROES, Brazilian Vale Tudo Fighting, Pancrase, Cage Rage, Jungle Fight, ShowFight, WFC, PRIDE, Sengoku, Strikeforce, LFC and Bellator before being forced into retirement following a facial fracture in 2016 against Michael Page at Bellator 158, which witnessed the MMA and Martial Arts community gather in support as he started recovery.
For an opportunity to own this rare piece of MMA History, and this once in a lifetime collectible click HERE for the Ebay auction.  Cyborg has stated that the proceeds of the sell of his PRIDE FC trophy will go directly to supporting those in his community who are without food during this Covid-19 crisis.