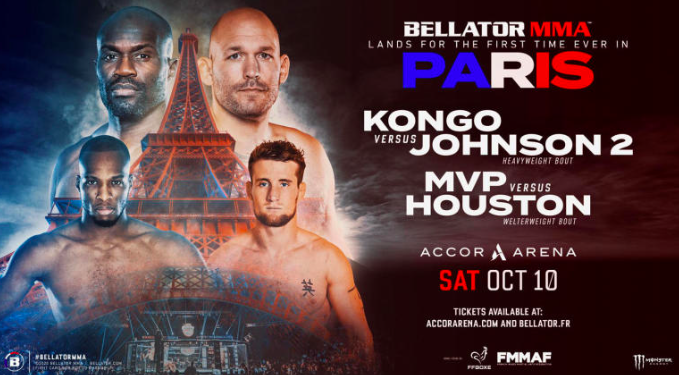 History will be made Oct. 10th with Bellator MMA heads to France to promote the countries first legalized MMA event.  The 13 bout card will also feature 3 boxing matches and will take place inside the Accor Arena with a live attendance of no more than 5,000 spectators!
Bellator Paris which will take place one week before Cris Cyborg's return against Arlene Blencowe will air on the CBS Sports Net station and will feature Cheick Kongo against Tim Johnson.  A former UFC Heavyweight Cheick Kongo was native to Paris and recently fought Ryan Bader in Sept to a controversial NC.
The Co Main event will feature Michael Venom Page-MVP another Paradigm Sports client is 17-1 and will be facing the undefeated Ross Houston.  The UFC has looked to promote an event in Paris for many years, and with no announced return to a live gate–it appears Bellator MMA is taking the lead in Europe in regards to being the premier organization.