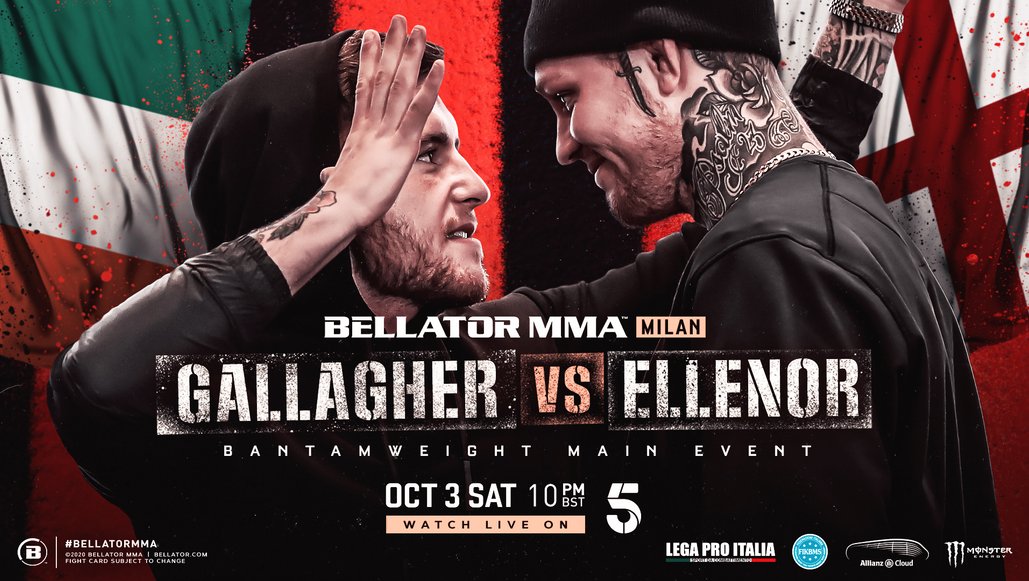 Bellator MMA just keeps proving they are the best Mixed Martial Arts promoter in Europe with the return of Bellator Euro series 9: Gallagher Vs. Ellenor. Bellator MMA which is back in Europe with their return to Milan Italy has a stacked card of some of the top talent in Europe competing on this event including the highly anticipated Bantamweight showdown between James Gallagher and Cal Ellenor, which has been a fight almost a year in the making.
Also highlighted on the event is a Featherweight feature bout between Ireland's Sinead Kavanagh and UFC Veteran Katharina Lehner of Germany. Bellator MMA continues to promote female featherweight fights, proving they are the home of 145lbs WMMA. Also on the card is Charlie Ward Vs Andy Manzolo, Kiefer Crosbie Vs Charlie Leary, Chris Bingard Vs Aymard Guih, Carlo Pedersoli Vs Acoidan Duque, Gohkan Saricam Vs Joffie Hooulton, Ashleigh Grimshaw Vs Andrew Fisher, Kane Mousah Vs Alessandro Bottie, Asael Adjoudj Vs Nathan Jessimer, and Marek Jakimoqics Vs Curtis Dodge. Watch all the prelims below.
We are 12 days away from Cris Cyborg's return at #Bellator249 live on CBS Sports Network Set your DVR to record #CyborgVsBlencowe on CH 221 Direct TV or CH 158 on Dish Network. Cris Cyborg is the only Grand Slam Champion in the sport of MMA after winning every major championship Mixed Martial Arts has to offer. For exclusive footage leading up to Cyborg's next fight be sure to subscribe to her youtube channel here.