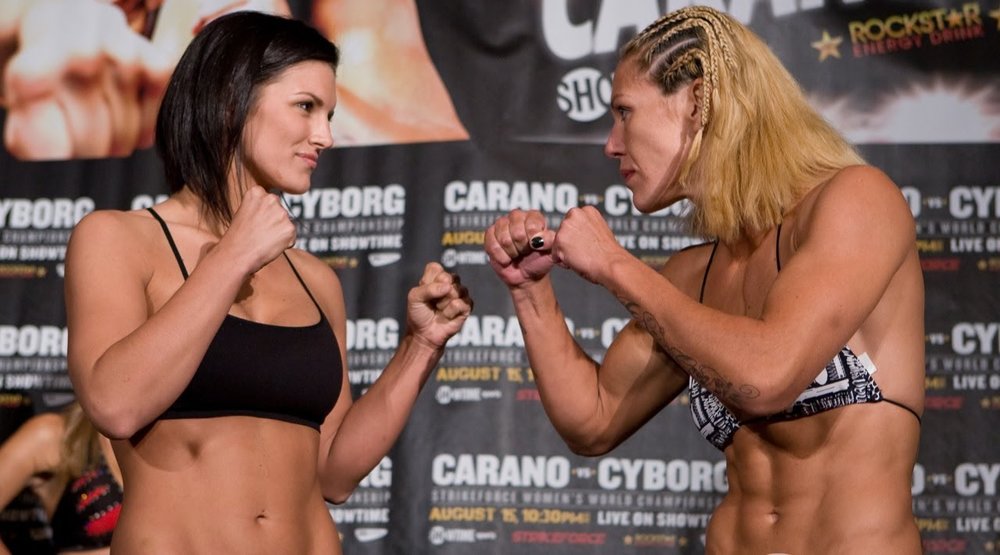 Aug 15th, 2009 that was a day that changed the sport of Mixed Martial Arts forever. Prior to that date, Women competing in MMA were prohibited from competing in rounds that were the same length in time as the men.  Originally WMMA consisted of 3 rounds of 3 minutes.  Similar to how Women's Boxing is currently, women fought a shorter round than the men.  All of that changed the minute Cris Cyborg stepped into the StrikeForce cage to face the undefeated Gina Carano for the inaugural Strikeforce Championship.
The main event fight was the first time Women MMA fighters had ever fought for a World Championship on TV in North America and it was a HUGE SUCCESS averaging 576,000 viewers on Showtime before peaking during the main event of Cyborg Vs Carano with 856,000 viewers setting a new MMA readings record that broke the previous high set by Kimbo Slice against Tank Abbott. Taking place in San Jose the event did a total gate of almost $750,000 with nearly 14,000 fans in attendance live.
Cris would go on to victory with only 1 second remaining in the round as Gina Carano would transition from MMA into a very successful entrepreneur and acting career.  The bout was showcased at a time when rival promoter Dana White was telling fans "Women would never fight in the UFC".  Promoter Scott Coker continued building Women's Mixed Martial Arts creating a Bantamweight division with eventual champion Ronda Rousey and when the UFC purchased the Strikeforce promotion Ronda signed a long term contract receiving her 'Strikeforce Championship' as a converted 'UFC Belt' during a Press Conference while Cris Cyborg eventually went on to partner with female promoter Shannon Knapp and help build the wildly important Invicta FC.
Fans wanting a chance at an Autographed poster from the fight can join Cris Cyborg on Twitter, FB, or IG for a chance to win one of 3 vintage Fight posters she brought out of storage.  These fight posters are over 13 years old!
🚨 Want a chance to win this Autographed fight poster?
1. Follow @criscyborg @ginacarano
2. RT post
One winner will be chosen from Twitter and receive this 13 year old event poster on the anniversary of this monumental moment for WMMA ❤️ pic.twitter.com/kexelea9I9

— CrisCyborg.com Boxing Debut Sept 25th (@criscyborg) August 15, 2022
Now recognized as the sport of MMA's only Grand Slam Champion Cris Cyborg has earned that distinction by wining the Strikeforce, Invicta, UFC, and Bellator MMA Featherweight Championships–Cris Cyborg most recently announced she will be challenging herself in the boxing ring against former 4x World Title Challenger and ex National Brazilian Boxing Champion Simone Silva with her first professional boxing fight Sept. 25th in Curitiba Brazil.