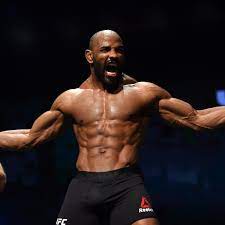 Yoel Romero or also known for being "The Soldier of God" is a Cuban MMA fighter and freestyle wrestler that has been fighting since 2009 and has numerous fights and wins against huge names in the sport like Derek Brunson, Tim Kennedy, Luke Rockhold, Lyoto Machida, Israel Adesanya, and others. He also fights in the Light Heavyweight division on Bellator but has previously fought on other events like the Ultimate Fighting Championship "UFC.  Romero has gotten a silver medal in the Olympics for freestyle wrestling in 2004 representing his home nation of Cuba. His last fight was against Phill Davis who he lost to on Bellator 266. In the same event event they had Neiman Gracie vs. Mark Lemminger, DeAnna Bennet vs. Alejandra Lara, Saul Rogers vs. Georgi Karakhanyan, Ben Parrish vs. Christian Edwards, and more fights on the undercard too.

Melvin Manhoef is a Surinamese-born Dutch professional MMA fighter and former kickboxer. In kickboxing, he is a former It's Showtime Middleweight Champion, and in MMA he was the Cage Rage Light Heavyweight Champion. He has a record of 32-15 and has fought many beasts before like Corey Anderson, Yannick Bahati, Kent Kauppinen, Rafael Carvalho and many more.
Most people believe that this fight is going to be won by Yoel Romero since he has such a good record, good wrestling skills and striking power. However, many also do say that Manhoef has a really big chance of winning because he also shares a lot of power and has good wrestling as well.
This fight should be really exciting because both fighters have a lot of experience in the sport since they have been doing it for so long. Make sure to stay tuned to know more about this fight and to know more about what happens before and after the event. This event is also going to be featuring the fight of Peter Queally vs. Benson Henderson which is also a fight that has a lot of potential due to the athletes experience in the sport and power as well. Benson Henderson is #5 in the weight class and Peter Queally is #3 in the division.
Cris Cyborg is going to have her first boxing  fight boxing match in October, make sure to stay tuned for that and to purchase your tickets here on the website!!