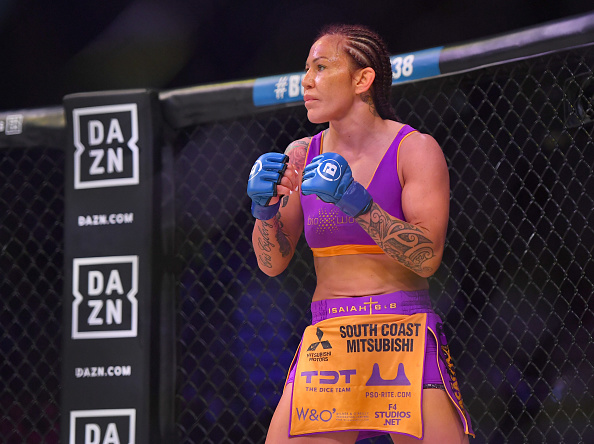 Cris Cyborg is a Brazilian Jiu Jitsu Black Belt under Rubens Cobrinha Charles after her last performance in the Bellator MMA Cage.  The only Grand Slam Champion in the sport of MMA Cris Cyborg became the first fighter to defend the UFC and the Bellator MMA Championships a feat Eddie Alvarez was unable to accomplish, and fans are waiting to see if Michael Chandler can succeed in achieving.
Who should newly-crowned #Bellator women's world featherweight champ @CrisCyborg face next?#MMA pic.twitter.com/bm3gKWCdhp

— BellatorMMA (@BellatorMMA) January 24, 2021
Bellator MMA recently sent up a post that showed three options with a blacked out fourth–leading many fans to believe that the fourth option could be Cat Zingano the last women to defeat Amanda Nunes.
Julia Budd who was recently undefeated for 8 years, before losing her Bellator MMA Championship to Cris Cyborg, the Muay Thai legend from Canada has a win over Gina Carano and was the Bellator MMA Champion.  Returning with a win, Julia Budd could be looking for her rematch.
Leslie Smith is 5-1 since her UFC 198 fight against Cris Cyborg at 140lbs defeating Sinead Kavanaugh  only losing to Arlene Blencowe who was #1 contender after losing a split decision to Julia Budd and facing Cris Cyborg for the Bellator MMA Championship.