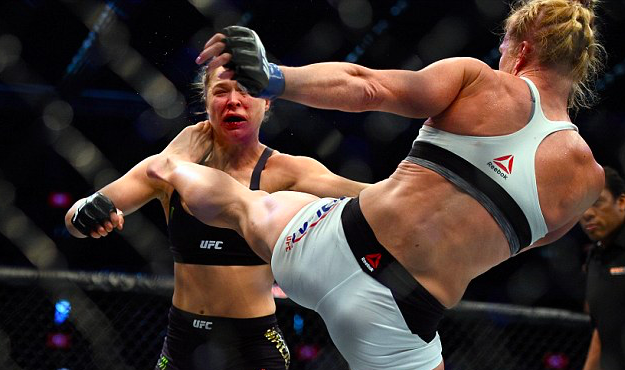 With 8 of her 4 UFC fights being for a World Championship or defending a title, you would be surprised to know that Holly Holm has gone .500 in her UFC career with a 4-4 record overall. Despite the fact that Holm has lost 3 out of her last 4 fights, she is currently the #1 ranked bantamweight contender and will be facing Megan Anderson in her UFC debut at UFC 225.
Megan Anderson who has been sidelined since UFC 214 with personal issues, will be making her UFC debut against Holly Holm instead of an expected fight against Cris Cyborg. Holm a world champion from Boxing, and a female fighter that many consider the top female boxer of her generation picked up the biggest win of her career in 2015 when she defeated Ronda Rousey in devastating fashion.
Losing the world title in her first defense to Miesha Tate, Holm then faced top flyweight contender Valentina Shevchenko before challenging Germaine De Randamie for the initial UFC Featherweight championship. Losing to GDR Holm dropped back down to Bantamweight where she was able to pick up a 3rd round victory over Bethe Correia before losing a 5 round decision last December. The fight against Anderson will be Holm's first since her Fight Of The Night with Cris Cyborg.
Holm who has gone to a decision in 5 of her 13 professional MMA fights, is an elite athlete who lives a clean lifestyle in and out of competition. Holm always in great shape when she steps into a fight appears to be near peak conditioning ahead of her UFC 225 fight against Anderson in Chicago.