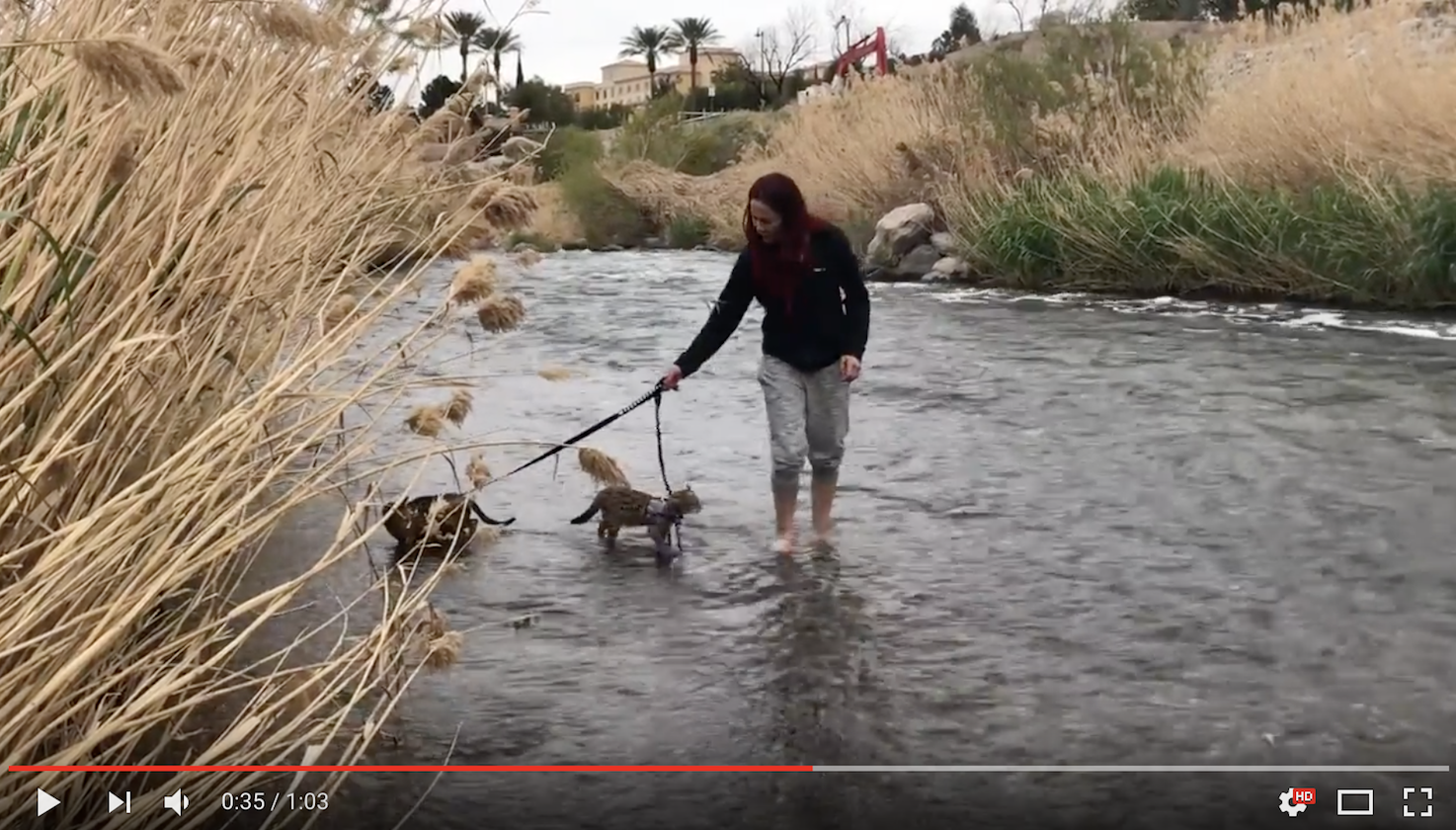 I guess when people say you are the baddest woman on the planet even your Cat listens!  Check out this amazing video of Cris Cyborg working with her new F1 Bengal Kitten Sugar Ray Leopard around Lake Las Vegas last weekend while she was in town for an appearance with Frost Kennels.
In the video you will see Cris handling her 6 month male F1 Bengal Kitten on the lead and the off leash.  The kitten displays a great ability to follow and listen to direction.  The video also continues to show a bit of water training and leash training for Cris Cyborg's other female kitten Laila Ali.
Cris Cyborg defeated Yana Kunitskaya as a late main event replacement to UFC 222 when Max Holloway injured himself.  Also accepting a last minute bout was Brian Ortega who successfully defeated Frankie Edgar placing himself next in line for the World Title at 145lbs.  The PPV though suffering last minute changes was considered a huge success reportedly drawing as many as 260,00 PPV buys according to Tapology.  Those numbers are good for 8th best PPV when looking at the UFC's last 15 events dating back to 2017 according to Dave Meltzer's OWN speculation highs.
Cyborg who has accepted the challenge issued by Amanda Nunes, has said that if Nunes can beat Raquel Pennington in Rio she feels it sets up the super fight in Las Vegas during International Fight Week.  Fans on Cyborg Nation what do you think…Do you want Cyborg Vs. Nunes in Las Vegas July?

For a limited time, try to Eat To Win diet and nutrition plans developed by Cris Cyborg working with the Better Human App to bring flexible reliable eating to all of Cyborg Nation.  Get your Diet Plans HERE!