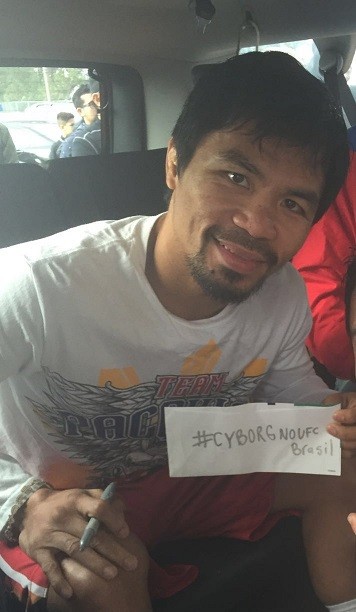 Cris Cyborg was invited to a dinner with Manny Pacquiao and his family while the Boxing Icon is here in Los Angeles preparing for his Jan 19th fight in Las Vegas against Adrian Broner live on PPV.  Pacquiao has grown into an icon of humanity in his native country of the Philippines, where his generosity and social services have changed the communities around him, which has led to his election as a public official.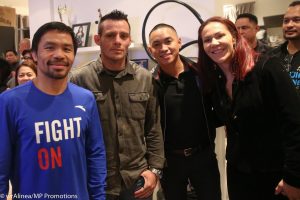 Pacquiao who fights in a similar weight class as Cyborg lobbied for the UFC to add her to UFC 198 when the event traveled to Curitiba in 2016 eventually helping rally enough fan support to get Cris added to the fight card at 140lbs in a Superfight against Leslie Smith.   Cyborg went on to win via TKO in front of a home crowd of over 45,000 fans in her native Curitiba home.  Following 1 more appearance in Brazil at 140lbs against Lina Lansburg the UFC eventually created the 145lbs division.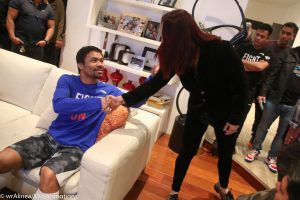 Cyborg and Manny Pacquiao are both members of the South Coast Mitsubishi sponsorship team, a recent sponsor of the Cyborg Nation 232 Video series, the ALL ACCESS video series which followed Cyborg fight week in the lead up to UFC 232 Superfight against Amanda Nunes.  Watch the final episode below.
If you didn't get any new Cris Cyborg clothes for Christmas, you can now order your own clothes online with international shipping anywhere in the world!  Get your new drip and show all your friends that 2019 Cyborg Nation is coming for the belt! Check out the Cyborg Nation Online shop here!