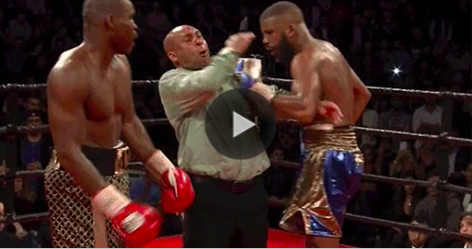 While some people where watching UFC Chile this weekend, others were glued to the important WBC light Heavyweight fight between Badou Jack and Adonis Stevenson which happened on the same day.  The two heavy hitters had been going back and forth with one another in the media during the lead up to their fight.
The bout was a war from the beginning with Badou Jack starting fast, and Adonis Stevenson staying on the body in the late rounds to slow and tire a Badou Jack into using his footwork to move around the ring.  Now this video from the fight has started to go viral, as in the closing moments of the 12th round while both Badou Jack an Adonis Stevenson where inside fighting, as the ref tried to separate them, Jack fired off a crashing left hook which landed on the ref!
Stevenson eventually went on to retain his title with a Majority Draw being the decision after the twelve rounds of action.  Two judges scored the fight as even, while one gave a slight edge to Badou Jack.  The two fighters showed great heart and put on an exciting fight for Showtime Boxing.  It is not known if the fight will get an immediate rematch.
This is the second infamous Ref punching by Badou Jack, it's safe to say the Ref will need to be aware next fight!