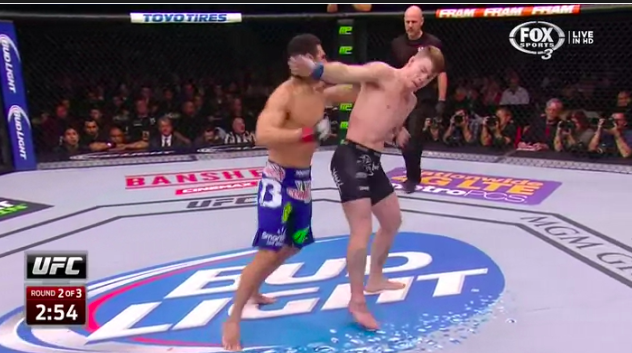 Despite making 155lbs and having won 5 out of his last 6 fights, Paul Felder has been told by the New York Commission that he is not high enough ranked to face Khabib Nurmagomedov for the Lightweight World Championship at UFC 223.
What is interesting is that the UFC Rankings are not a true independent ranking system, and more intact a popularity contest as it is a field of reporters, some of whom who have limited MMA experience voting and establishing the ranking system which dictates where a UFC fighter is ranked in a division.
Felder is currently scheduled to face Al Iaquinta who is 13-3 riding a 5 fight winning streak.  Al Iaquinta is trying to campaign for an opportunity to face Khabib after beating Diego Sanchez by KO at UFC FN 108 when coincidentally Artem Lobov was the main event against Cub Swanson.  We will update you if the UFC comes up with a new main event.
Earlier today, he made "championship" weight, but @felderpaul has been told by the commission he can't fight for the title. #UFC223 is madness.

More: https://t.co/ydXGOALvjCpic.twitter.com/B1WK8BNNJx

— MMAjunkie (@MMAjunkie) April 6, 2018
I tried to get it. Commission is stopping it

— Paul Felder (@felderpaul) April 6, 2018