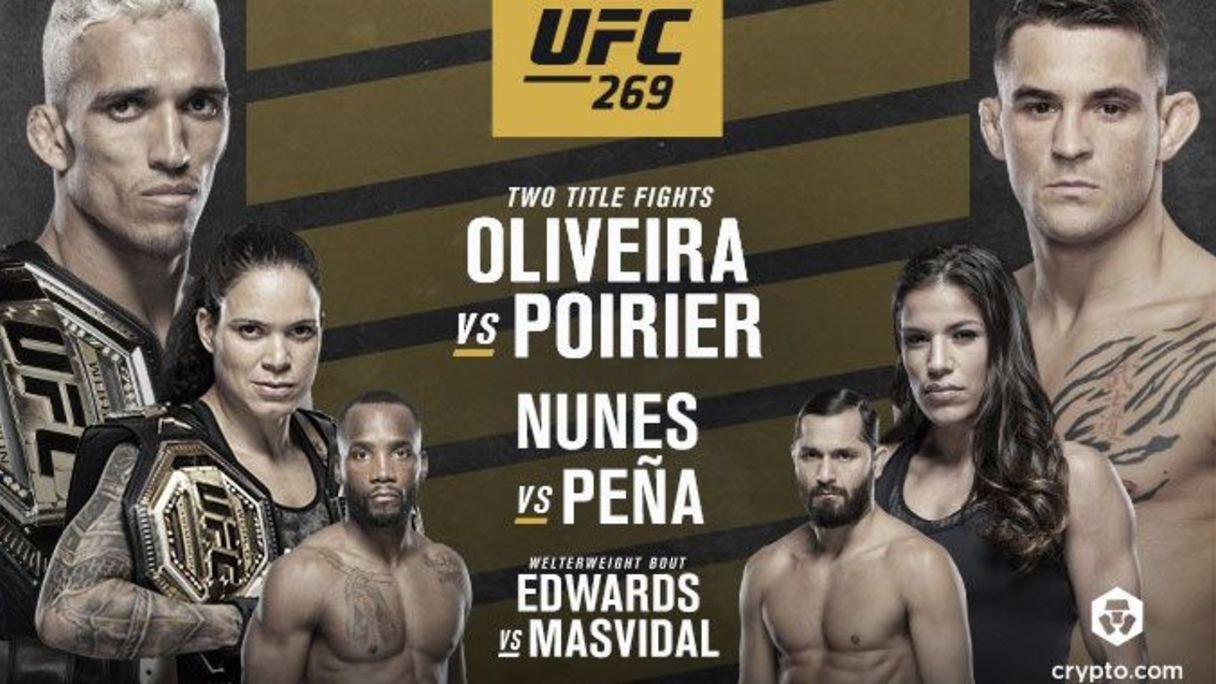 UFC 269 is set to be one of the most anticipated cards of the year. On December 11 in the T-Mobile Arena, Las Vegas, two title bouts will take place as well as some major contender bouts. The final PPV card of the year is certainly not one to be missed. So what do you need to know about the main card of UFC 269? Here is a preview of the action. 
Dustin Poirier Vs Charles Olivera 
Khabib Nurmagomedov dominated the lightweight division for several years prior to his retirement in the fall of 2020. After defeating Justin Gaetje, he hung up his gloves following the passing of his father. With such a major figure now missing from the division, many saw their chance to finally claim gold as a lightweight. Michael Chandler and Charles Olivera would be the two chosen fighters to compete for the vacant belt. Following a crazy first round, Olivera would catch Chandler with a punch to earn him a TKO victory. Meanwhile, Dustin Poirer heated up his rivalry with Conor McGregor. He earned two victories over the Irishman. In January, he TKO'd McGregor in the 2nd round, while in July, a doctor's stoppage would earn Poirer the victory at the end of round 1. Now, the two will face off for undisputed gold. Poirier was formally an interim champion but fell short against Khabib Nurmagomedov in a unification bout. Betway currently has the Poirier as a slight underdog, meaning this could be a good time to cash in.
Amanda Nunes vs Juliana Pena 
Following a quick disposal of Megan Anderson at featherweight, Nunes will drop back down to bantamweight to defend her title there. She will face off against American Julianna Pena. This is a rescheduled bout from August, one in which Nunes was forced to withdraw due to illness. Pena has been very vocal in her build-up to the fight, claiming she has the tools necessary to dispose of the dominant champion. She began calling for the title opportunity following a 3rd round submission over Sarah McMann. 
Leon Edwards vs Jorge Masvidal 
This might be one of the most anticipated fights on the entire card. Welterweight action will see Leon Edwards face off against Jorge Masvidal. The British fighter Edwards is coming off an impressive display against Nate Diaz, and he is on one of the longest win streaks in welterweight history. He is 10 fights undefeated coming into the bout. His last loss came against dominant champion Kamaru Usman, whom he is aiming for a rematch with. Jorge Masvidal also has a history with the current champion. His last two outings were against Usman, coming up short on both attempts. In order to stay relevant in the title picture, Masvidal will need an impressive display against Edwards. As for Edwards, a title shot is all but guaranteed with a win in December.