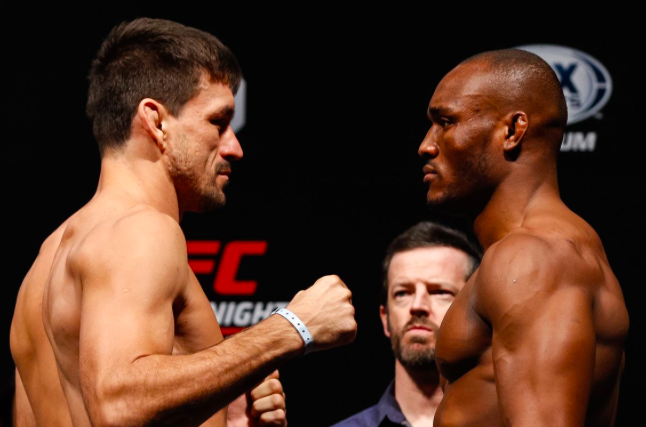 For the first time in the history of the UFC the promotion headed to South American country Chile as they hosted a Fight Night event in the capital of Santiago.  After an injury forced Kamaru Usman's opponent out of the fight, the event was left without a main fight, and was in danger of being canceled with Usman boldly declaring he wouldn't accept a fight against anyone not in the top 10.
Enter BJJ Legend, and aging MMA superstar Demian Maia, who was willing to accept the fight against the undefeated Usman on three weeks notice.  While Usman had been scheduled to face a striker in Santiago Ponzinibbio, he had no problem modifying his strategy to accommodate the differences Maia offered in matchup.  Usman stopped every single Maia takedown and landed huge right hand and blitzing jabs most of the fight.
Usman looked impressive, however Maia did a great job of remaining in the fight, and despite taking the bout on less than 30 days notice, with a limited camp showed great heart and determination in losing a 5 round decision.   Maia had referee Leon Roberts stopping the action constantly for a new re-start and dealt with the disadvantage of having the fight changed well.
Excuse me Mr. Leon Roberts sir, grappling IS an aspect of #MMA OK, good talk. #UFCChile

— Kenny Florian (@kennyflorian) May 20, 2018
Congratulations👏👏👏 for my bro @USMAN84kg🇳🇬 for his victory at #UFCChile ! Great performance by Damian Maia as well.

— Francis NGannou (@francis_ngannou) May 20, 2018
10-9 Maia
9-10 Usman
9-10 Usman
9-10 Usman
9-10 Usman

49-46 Usman@MMADecisions @bjpenndotcom #UFCChile

— Drake Riggs (@Dre_Kriggs) May 20, 2018
Maia trying to backpack. Might have a standing… twister??? #ufcchile pic.twitter.com/vouvvtfFOa

— The Mane Event™ (@EliasTheodorou) May 20, 2018
Usman with some wicked hammerfists to the top of Maia's feet in the third round. Brutal shots. Stop the fight!

— Brett Okamoto (@bokamotoESPN) May 20, 2018