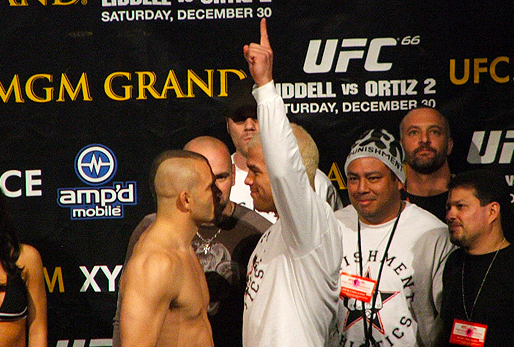 There have been rumors flying in weeks that Chuck Liddell vs Tito Ortiz 3 is just weeks away from being announced.  Chuck Liddell who appeared on The MMA Hour and announced his return after an 8 year retirement has fueled the speculation that his first fight back in the ring will be against Tito Ortiz.
While nothing has been announced yet, sources close to the situation say Oscar De La Hoya is looking at promoting the event as part of his first venture into the sport of MMA with Golden Boy Promotions.  Liddell and Ortiz have fought twice before with Liddell winning both fights via TKO, ref stoppage.
Speaking to TMZ, Tito had this to say, "Tito Ortiz V Chuck Liddell 3 is the fight that all the fans wanted to see for the longest Time and never got a chance to.  I never got a fair shake when I was with the UFC against Chuck, any of the times I fought against him. Let's do it under a different promotion. Let's do it under Golden Boy promotion. He has a great background in promoting fights, some of the biggest fights in the world, and he bit on it, hook, line, and sinker. He's in. Let's see if we can make some history here."
Ortiz went on to say that he was hoping that the fight could happen sometime in the fall.  "I'm not exactly at the point where I can say where but when, October or November, that way we have some time to promote, we'll do a world tour-kind of go around to talk smack to build up the fight."
Tito Ortiz has won 3 out of his past 4 fights since signing with Bellator, and now a free agent he will be one of the first fighters in MMA to compete under the 'boxing model' of pay–currently most MMA fighters are paid a significant less percentage of profit than Boxing fighters due to the way the pay structure is organized. Tito has said the new deal with Golden Boy will change that.