Tucked away in the desert south of Las Vegas is an oasis of color known as the Seven Magic Mountains. Crafted from limestone the boulders are stacked into towering displays between 25 and 35 feet in height.   Free Standing the rocks are fluorescent in color and are symbolic to the stone cairns that would mark the way for travelers passing through unfamiliar landscapes.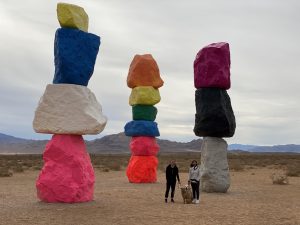 Designed by Swiss Artist Ugo Rondinone the limestone towers took 5 years to create.  Located about 20 miles south of Las Vegas the Seven Magic Mountains are like a Psychedelic Stonehenge something you would only expect to find on the way outside of Las Vegas in the desert.
A Brazilian Jiu Jitsu Black Belt Cris Cyborg is the only Grand Slam Champion in the sport of Mixed Martial Arts by having won the Bellator MMA, UFC, Invicta FC, and Strikeforce World Championships in the 145lbs featherweight division, becoming the only fighter to ever accomplish that achievement.