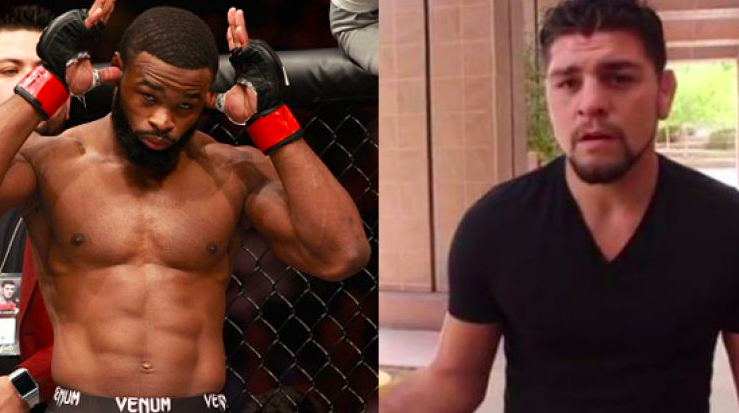 Nick Diaz is one of the biggest stars in the UFC, and due to 3 wear about failures was suspended by USADA for 12 months, making him ineligible to compete. After serving his suspension, and remaining in the testing pool despite only one sample collection during the past 16 months Nick Diaz is now looking at securing a fight.
Rumors broke earlier this week that the UFC had looked at putting Nate Diaz the younger brother of Nick against Tyron Woodley in a UFC 227 fight, however we have since learned that when the younger brother Nate does return to the octagon he wants it to be at the lightweight 155lbs weight division and not 170.
170lbs is the division that older bother Nick Diaz has owned for the better part of a decade as a top 10 fighter within the division.  While Nick Diaz has gotten older there has been some idea that he might look to move up a weight class and compete at Middleweight, however it appears a fight with Tyron Woodley is one Nick is interested in and one that they have talked about setting up according to Gracie Fighter teammate and original Scrap Pack Member Jake Shields recent interview with Ariel Helwani and the MMA Hour.
"I think (Nick) will fight again soon. He's been training a little bit. I haven't been out there (in California), but I'm pretty sure he's been training a decent amount. I would love to see him fight again. He hasn't been training as much, but he's still in good shape and can comeback fast.
"Nick is a hard person to predict. Only Nick knows what he will do. But if I had to guess, I'll say that he fights again."
"I think (Alvarez) is a good fight as well, but it's hard to think it sells as well though. Nate's certainly not afraid of anyone, and I personally would love to see that fight, but I'm not sure if that's going to sell great, so that's something Nate would have to think about.
"Tyron Woodley and him, they were talking about putting something together at one point. It's interesting, I think they were close to coming to terms but it didn't quite work out. I would actually rather see Nick get that Woodley fight, that's what I would really like to see."
Tyron Woodley and Nick Diaz have been teasing this match for almost 2 years.