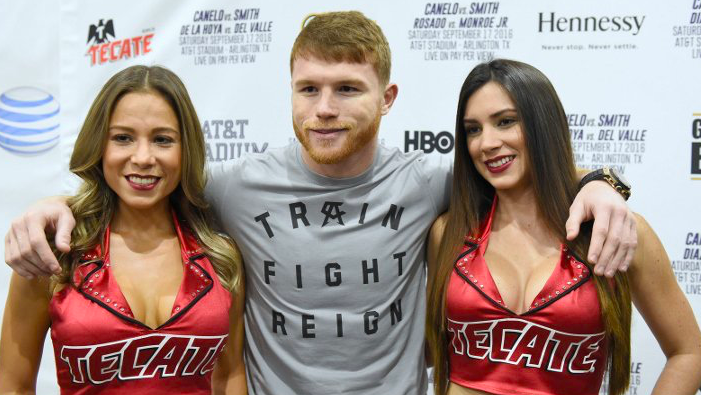 Golden Boy Promotions CEO Oscar De La Hoya proudly announced the yesterday that Saul Canelo Alvarez has signed a contract for year-round testing with VADA testing. Canelo who lost to Floyd Mayweather JR in 2013 had won 7 fights in a row until his majority draw to Gennady Golovkin on Sept 16th,  2017.
With 49 wins and only 1 defeat, Canelo has had two draws.  The rematch between GGG and Canelo had been announced for Cinco De Mayo weekend in Las Vegas, however when Canelo failed a performance enhancing test for clenbuterol he witnessed his boxing license temporarily suspended, and the bout eventually canceled.  GGG went on to fight Vanes in California on the same date, however Canelo still has not cleared his testing concerns with the athletic commission.
Canelo will now be subject to year-round testing with VADA which will ensure he is able to prove to fans and critics that he is a clean athlete.  Currently VADA testing is voluntary in the sport of boxing.  With Oscar De La Hoya as Canelo's promoter, Golden Boy will use this program enrollment to help clear any doubts that Canelo is a clean fighter. Canelo has failed two PED tests for the same banned clenbuterol substance.  While Clenbuterol is banned, it is also commonly found in meat in Mexico, the native country of Canelo. Golden Boy promotions have been teasing an introduction into the sport of MMA with a possible Chuck Liddell V Tito Ortiz rematch being promoted by Oscar De La Hoya and team.
— Oscar De La Hoya (@OscarDeLaHoya) May 15, 2018