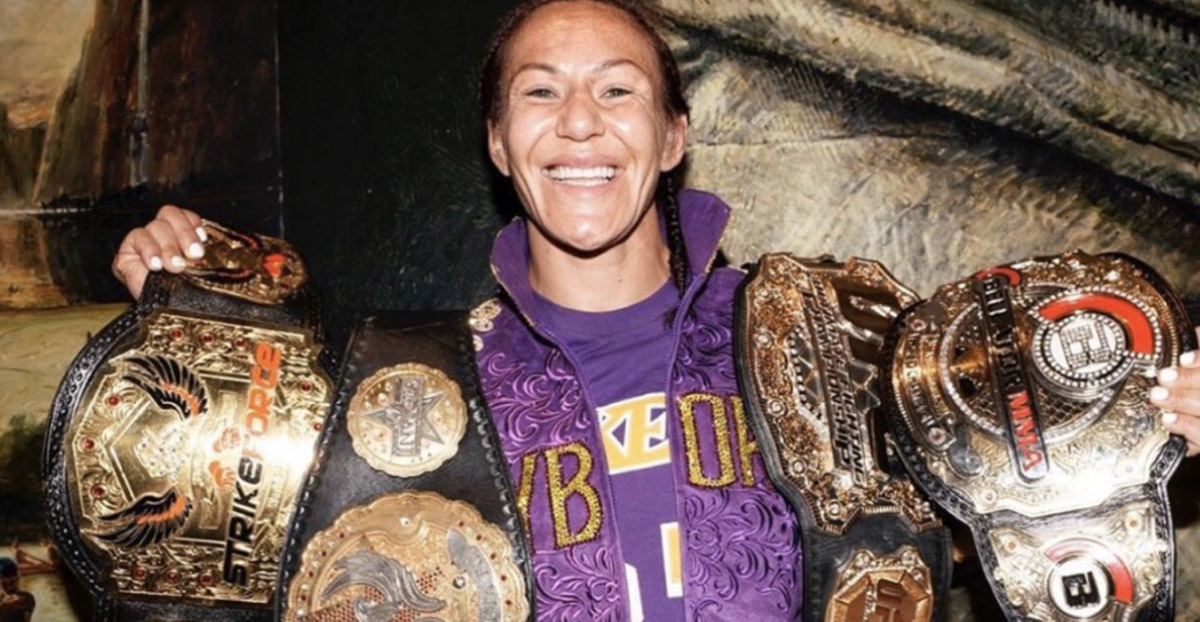 In a sport that's often been viewed as a male-dominated environment, Cris Cyborg remains one of the most polarizing and successful female figures in MMA history. When the topic of conversation revolves around GOAT (Greatest of All Time) status, it's impossible to avoid throwing Cyborg's name into the mix – whether it's men or women's divisions! Before women's mixed martial arts was pushed into the mainstream, Cyborg was wrecking the competition. And when the Ronda Rousey era elevated the sport into the spotlight, MMA diehards always knew she was no match for Cyborg as her domineering reign continued across multiple promotions. With this in mind, let us reflect on some of Cris Cyborg's most defining career moments.  
Cris Cyborgs Coming Out Party 
Cristiane Justino vs Shayna Baszler 
EliteXC: Unfinished Business, July 26th, 2008 
We're going deep into the history books to highlight a contest in which most casual viewers would ask, "why is this contest career-defining?". Well, a young and vibrant 23-year-old Cris Cyborg was just five fights into her professional mixed martial arts career; critics who weren't familiar with the Storm Samurai promotion in Brazil had already overlooked her chance of success in the United States.For those unfamiliar with the promotion, EliteXC was the original home of MMA legends such as Jake Shields, Nick Diaz, Robbie Lawler, Gina Carano, and of course, Cris Cyborg. 
Brazilian born Cyborg made her anticipated United States debut for EliteXC and was matched with the now WWE wrestler and former martial artist Shayna Baszler. Nobody realized how talented Cyborg was, including the oddsmakers and public bettors. Bookmakers opened Cyborg as a +120 underdog with the public driving this to a closing line of +195, and to this date, she's never been a betting underdog since this contest. 
A two-year layoff, her debut U.S. matchup, and the fact that Baszler was riding a four-fight win streak with three of those bouts ending via submission in the first round were the driving factors that dictated the public opinion – but boy were they wrong. Pointsbet sportsbook and a plethora of highly recognizable sportsbooks have never doubted the elite fighting skills of Cyborg ever since.Baszler found success with an early takedown, but the sleek transition skills of Cyborg soon reversed the position. From there, it was all Cristiane. Her brute strength and ground control were too much for Baszler to handle. Round two began, and Cyborg wanted to display her Muay Thai striking skill set, which is true Cyborg fashion, and ended the fight with a flurry of strikes that her opponent couldn't withstand. EliteXC was desperate to host their star female, Gina Carano, versus Shayna Baszler, but a new star in town had arrived, Cris Cyborg! 
You can relive the fight between Cris Cyborg and Shayna Baszler HERE. 
The New Face of Women's MMA
Cristiane Justino vs Shayna Baszler 
Strikeforce, August 15th, 2009 
With EliteXC falling into liquidation and Strikeforce buying the company out, it would take twelve months since her U.S. debut, where Cris Cyborg could compete against the most popular female fighter in martial arts (at the time), Gina Carano. Between 2006-2009, Carano and Cyborg elevated the world of women's MMA and assisted the sport in reaching new heights. Both ladies had a combined 13 wins and zero defeats, and the popularity of each fighter was consistently growing. Fans feared the matchup would never take place because of Carano's growing popularity outside of the octagon. Still, the angst was put to rest when Carano and Cyborg finally squared up in the first-ever women's contest to headline a major MMA event. At the time, it was the biggest fight in women's MMA history, and in front of 14,000 screaming fans at the HP Pavilion in San Jose, the newly created Strikeforce Women's Championship was on the line. 
From the onset, Cyborg pounced on Carano. Funnily, most critics viewed Carano as the more excellent striker of the two; Cyborg proved the doubters wrong quickly, holding Carano against the cage whilst delivering a barrage of menacing strikes. Consistently moving forward, Cyborg's fearless approach turned into one of MMA's most memorable moments in sports history. Carano was left on the ground multiple times to an eventual ground and pound flurry that gave the referee no choice but to stop the fight. A defenseless Gina Carano was punched senseless, and the new face of women's MMA was born. 
You can watch Cyborg vs Carano HERE. 
This victory made Cris Cyborg the biggest star in women's MMA, and she's grasped onto that role ever since.   
Grand Slam Champion: An MMA Accomplishment That Nobody Can Emulate
Cristiane Justino vs Julia Budd 
Strikeforce, January 1st, 2020 
After spending fifteen years on top, Cris Cyborg continued breaking records that are impossible to emulate – when she became the first and only Grand Slam MMA Champion in both women's and men's competition. 
Cyborg had already claimed titles in three other major promotions before her Bellator MMA debut at Inglewood's Forum in California for the featherweight championship. Multiple-division UFC, Invicta FC, and Strikeforce had all had the pleasure of seeing Cyborg raise their prestigious titles. And on January 1st, 2020, another piece of gold was added to Cyborgs long list of accomplishments. Per usual, Cyborg showed little respect to her opponent, as Julia Budd soon realized, she'd never faced the adversity that Cris was about to put her under. 2,998 days remaining undefeated, Julia Budd's impressive streak was torn apart by the best on the planet. A fourth-round TKO and the emotion overcome Cyborg as she dropped to the canvas in joy. 
Watch Cris Cyborg vs Julia Budd HERE. 
Obtaining MMA champions in four major promotions will never be replicated. Cris Cyborg has etched her name in the history books as the greatest ever to do it. Whatever the future holds, our beloved Cyborg has achieved everything that a professional martial artist could dream of.