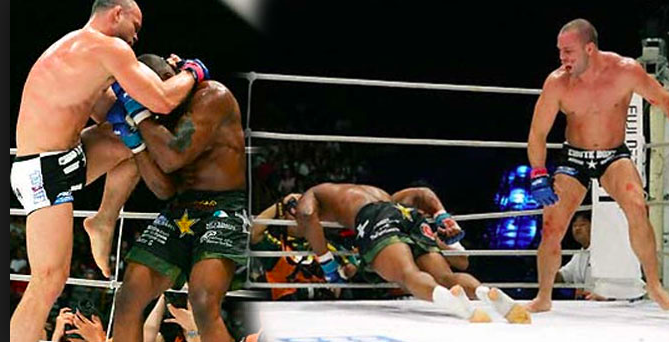 If Wanderlia Silva has his way, he is going to get one more fight against Rampage Jackson before it is all over, and the fight is going to be in his home town of Curitiba Brazil.  Speaking to Gazeta Do Povo Wanderlia revealed that he is hoping for a fourth fight with the rival and that he things it will fill the Arena Da Baixada soccer stadium in Curitiba Brazil, his hometown.
Fans on Cyborg Nation will remember Arena Da Baixada as the site of Cris Cyborg's UFC 198 debut in front of an audience of more than 50,000 screaming fans. Silva speaking to reporters said, "I'm going to be one of the headliners and I'm trying to put myself out there as a promoter too. I got the company, I got the venue, I'm in the main event. you only need to put the pieces together. you add both Pitbull brothers, who are doing well. You add our champion Rafael Carvalho and Goiti Yamauchi who is also from Curitiba.  Bellator is very interested in the Brazilian Market and Curitiba would be the perfect place.
The two legends of the sport have already fought 3 times wth Rampage losing the first two fights in PRIDE FC before getting his revenge with a UFC rematch which he on in the 3rd round.   Former UFC Brazil president Giovanni Decker who has passed his non-compete terms in his contract, as mentioned he is interested in bringing Bellator to Curitiba in the past.  Do you think the opportunity to have Wanderlia Silva fight in front of a home crowd will be enough for Bellator to make this fight happen?