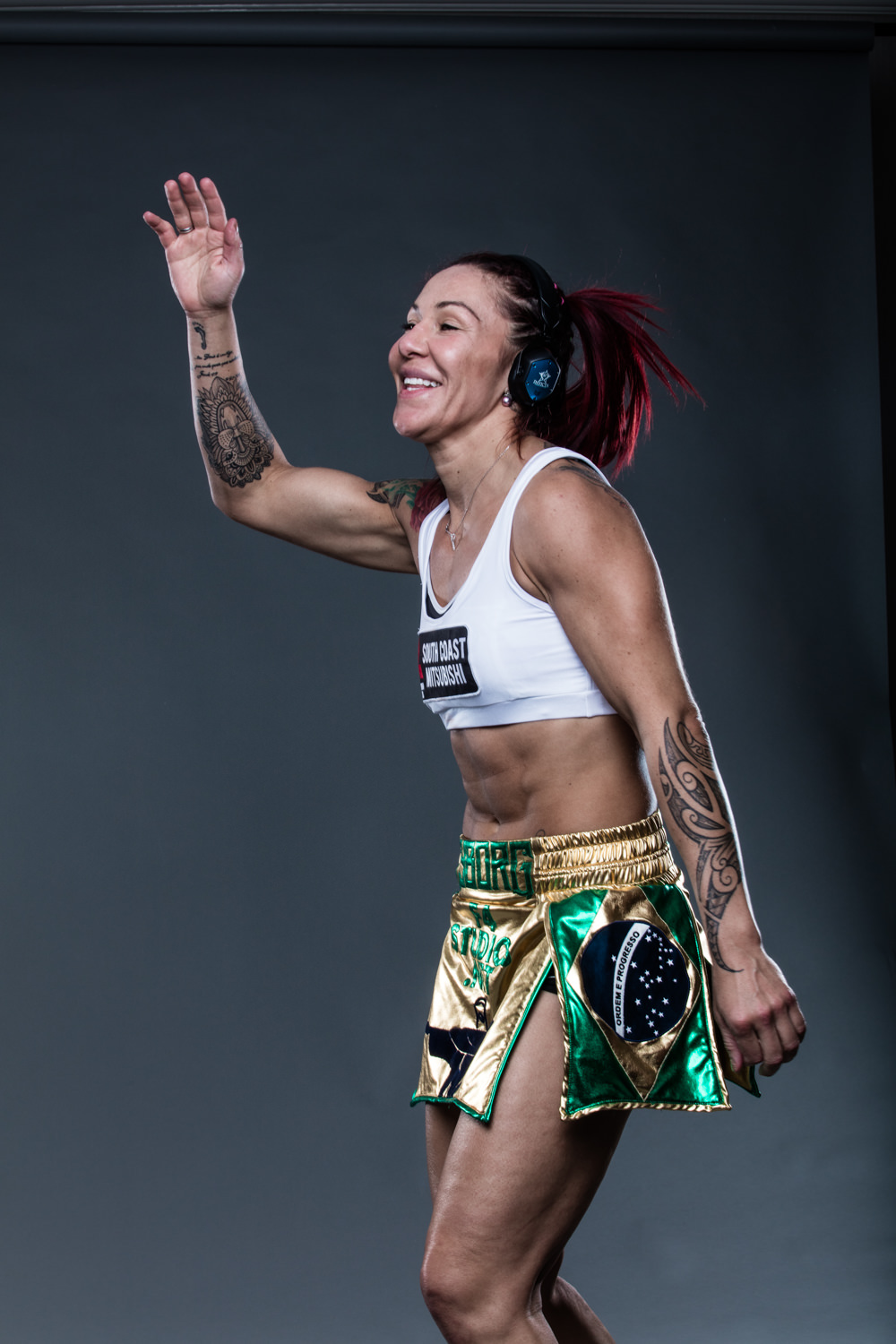 Ahead of UFC 219 I am steady training to give the fans the fight they expect from me Dec. 30th in Las Vegas Dec. 30th.  I have been working hard on camp, focusing on my Conditioning, Wrestling, Brazilian Jiu Jitsu, Muay Thai, and boxing ahead of my fight with Holly Holm.  Leading up to this fight against Holly Holm my team will be filming, editing, producing, and distributing 4 all access behind the scenes videos showing all my fans the craziness that is UFC Fight Week the weekend of New Years in Las Vegas.
I love the film project because it gives my fans an opportunity to see the real me, and a chance for them to get a chance to see the inside of what makes a fight long before stepping inside of the octagon.  Working with me to ensure I put the best version of myself on display for UFC 219 is a team of sponsors who make it easier for me to continue having the successes in my career that I have had.  Ahead of UFC 219 Dec. 30th against Holly Holm the Official sponsors for Team Cyborg's Cyborg Nation Video Series are;
Executive Producers:
South Coast Mitsubishi- Mitsubishi Motors has long been a name trusted in value, and the South Coast Mitsubishi dealership team is no different.  Cyborg has purchased vehichles from this dealership, and this is one of her longest sponsors who are again with her for UFC 219.  South Coast Mitsubishi is known within the fight industry as to having sponsored many of the top boxing and mma fighters in the world. If you are interested in a new Car check out South Coast Mitsubishi here and tell them you're on TEAM CYBORG for a special rate!
Frost Kennels- A family owned and operated dog kennel, Frost Kennels specializes in service and protection animals.  Located in South Carolina, USA owner Bob Frost treats his animals like family and in addition to dog purchases offers training and many other services for current pet owners. For more info on purchasing a service protection animal from Frost Kennels click here.
Better Human App- Cris has been using this App in the lead up to UFC 219 to monitor her workouts and her diet.  Currently she has uploaded a series of workouts for members who register on the app and get the premium service to workout alongside her with.  This app features a photo recognition feature with the premium service that literally allows you to take a picture of your food to track your micro and macro nutrients.  This App is a must for any serious athlete. Download the app for Iphone here. and android phones can click here.
Epic Tide WetSuits- This is currently the only wet suit on the market that offers a built in hydration system!  When you are enjoying your favorite water sports wether that is exercising in the pool, surfing, paddle boarding, or being a triathlete  the Epic Tide Wet Suit allows you to stay hydrated.  This innovative design is comfortable and convenient and takes away the needs of carrying plastic water bottles to the beach.  If you wear a wet suit it is time to upgrade to an EPIC TIDE WETSUIT!
Air for Life- Luna Air for Life is an air sanifier that uses technology designed by NASA scientist for use in the International Space station to ensure air remains safe and clean by reducing harmful toxins and contaminates using UV and advanced hydrated photocatalytic oxidation technologies actually kills, mold bacteria, Aeroallergens, even removing toxins caused by smoking in the air.  An Air Sanifier is different than a deodorizer or an Air Purifier because the UV lights work with the AHPCO catalyst to create catalytic molecules  that spread out an neutralize carbon based molecules from smoke, mold, and a variety of other indoor allergens. If you are ready to finally know what clean air smells like click here!
Bad Chicks MMA- Cyborg loves supporting companies that support the sport of WMMA.  Bad Chicks MMA is a company that does just that!  This Arizona based company is inspiring to motivate other female athletes interested in combat sports to pursue their dreams and set goals that are attainable and begin working towards them.  Bad Chicks MMA is family owned and very passionate about the sport, make sure you check out their latest line of products!
Dacik Fit Foods- The best foods delivered directly to your door in Orange County. Cyborg has been working with DACIK FIT FOODS for sometime now, and this company besides helping her make 145lbs and be fast and strong so she can defend the UFC title, is active in supporting the community and has volunteered food, time, and service to help give back to the PinkBelt Fitness women's empowerment camps that Cris runs.  If you are tired of grocery shopping, don't like cooking, unsure how to prepare a healthy diet, or just don't like grocery shopping…invest in yourself and check out the food DACIK has to offer.  Spend more of your time doing what you enjoy and less of your time worrying about the fuel you are putting inside your body! If you want to try DACIK FIT FOODS order HERE UNTIL UFC219 and use discount code: CYBORG to receive 15% off your order!!!
DTR Determination Sports- Be inspired! wake up, work hard, fight to win, never give up, everything is possible!  DTR is a lifestyle and brand company that is focused on bringing people together through inspiration and motivation.  If you are a person who likes to go out and obtain your goals then DTR Sports is a company that represents just that. To join their exclusive mailing list click here!
F-4 Studios- custom designed boxing, muay thai, and MMA fight clothes.  Fermin of F-4 studios makes many of the top boxing outfits worn inside the ring or cage you see today.  F-4 studios is the exclusive Team Jacket manufacture for UFC 219. If you are interested in picking up one of the custom Cris Cyborg hand sewn jackets you can only order yours from F-4 Studios.  Fans interested in the Statue of Christ Cyborg Nation shirt can also make their pre order between now and the fight by clicking here.
NEVERTAP CANADA- Canada's #1 Mixed Martial Arts clothing brand Nevertap Canada.  We all go through tough times, some more than others and we have all thought about giving up, tapping out.  This is never an option. Never Tap Out!  Cris Cyborg a devout Christian loves the fact that Nevertap Canada is a Christian inspired clothing and lifestyle brand that continues to give back and support the Women of Mixed Martial Arts.  Having worked with Cyborg since her years fighting in Invicta FC Nevertap was featured in the original CYBORG DOCUMENTARY.  Check out their latest designs here!
Fite-TV- you can now watch UFC 219 directly to your phone without illegally streaming it.  If you want to support Cyborg for all of the hard work that she does inside the gym,  please purchase the PPV instead of illegally stealing the stream.  Support Cyborg with your purchase, you can watch UFC 219 directly to your cell phone or other smart device by registering and ordering the PPV HERE.  You can pay for it now and watch it Dec. 30th!
Reebok- official sponsor of the UFC and the uniform Cyborg will be wearing into the UFC 219 octagon.  Look for the new Reebok Champion's Line walkout shirt that Cris will wear for UFC 219 to be available online soon.
Thank you to everyone who has continued to support Team Cyborg, including; ROCKTAPE, EVERLAST, COMBAT CORNER,  Chute Boxe,  PinkBelt Fitness Girls, Phuket Top Team, and everyone who has been a part of the UFC 219 training camp.  Cyborg looks forward to seeing Everyone in Las Vegas New Years weekend!
If you have not ordered your T-shirts, you can still get your CYBORG VS THE WORLD SHIRT online now and have it in time for DEC 3oth #CYBORGVSHOLM  If you are planning on coming to Vegas Please have a Team Cyborg shirt so that we know you are on CYBORG NATION!
Team Cyborg will have a street team in Vegas all weekend giving away trading cards, stickers, and other fan merchandising to anyone they see on the streets in Cris Cyborg swag!!  Don't forget to bring your #TEAMCYBORG signs to the open workouts, weigh ins, and the fight so you can get noticed! UFC 219 is for you guys!
Final message from Cris "Thank you to my savior Jesus Christ because through him all things are possible…HEEEEEYYYYY!!"