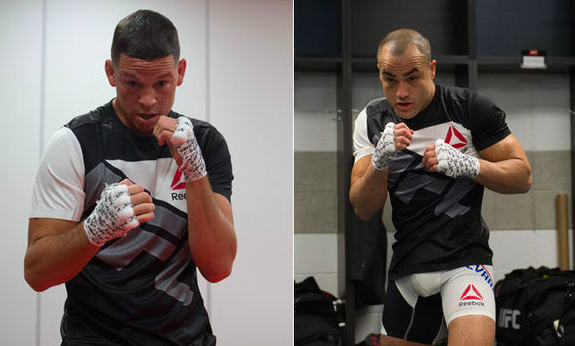 While Tyron Woodley has been vocal about the matchup, it appears that Nate Diaz is being given options with who he will fight on his UFC return. The date being rumored for his return is still the Aug. 4th however sources are saying he's been given multiple options and is looking at a return fight at lightweight and not 170lbs, which is the division his older brother Nick Diaz has been a perennial top 10 fighter for the past decade in.
According to Ariel Helwani and MMA Fighting neither Khabib Nrmagomedov or Conor McGregor are being discussed as options, but the UFC did offer him multiple top 5 ranked lightweights as options for UFC 227.
Looking at the UFC division if you remove Khabib Nurmagomedov and Conor McGregor as options, and remember the Tony Ferguson is still out with knee rehab they the options are limited with Kevin Less, Eddie Alvarez, and Dustin Poirier as front runners for a Diaz return.
Eddie Alvarez fought Scrap Pack member Gilbert Melendez formerly, and Eddie Alvarez won that fight. Back in Jan when Nate Diaz first teased a return to the UFC, Eddie Alvarez was quick to reply "May-June is perfect Nate Diaz, see you then big guy"–Alvarez who is reportedly on the last fight of his contract has also been rumored for a bout with Dustin Poirier possibly in Canada, so this story is likely still to develop
May-June is perfect @NateDiaz209 , see you then big guy 👊🏻 💥#Eastcoastbeastcoast #Ufcmostviolent

— Eddie Alvarez (@Ealvarezfight) January 24, 2018