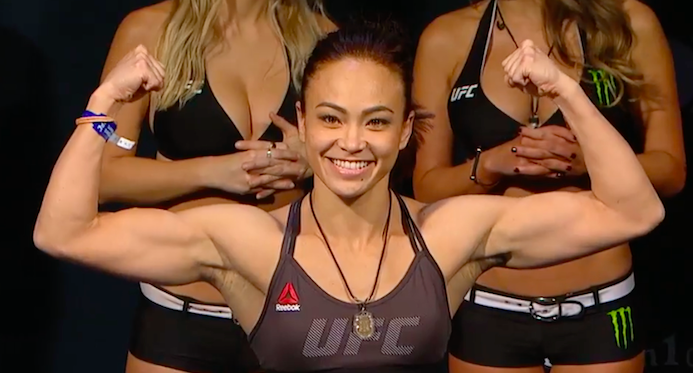 Just like Cris Cyborg, Michelle Waterson was a world Champion in a weight class that the UFC did not have.  While fighting for Invicta FC, Waterson won the Atomweight world title and from 2013-2014 was the #1 ranked fighter in the world at that division.
Moving up to fight in the UFC, she has had to make a competition weight of 115lbs, and as such has had a mix result going 2-2 in the division with back to back losses before her most recent split decision win over Cortney Casey Sanchez on the UFC on Fox 29 UFC Glendale card.  While skill was close, one thing was apparent and that was the fact that Michelle Waterson was significantly undersized and at a weight disadvantage when it was fight time.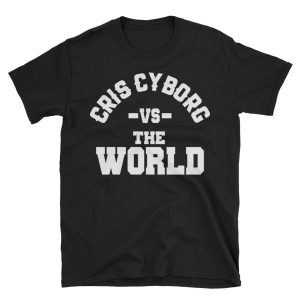 Speaking to MMANYTT.Com Waterson said "Of course, theres so many women that compete in MMA that train Just as hard as the guys do and they need a home. They need a place to showcase their skills."  Waterson went on to say, "Absolutely I think they should add the weight class [atomweight] It would expand the UFC roster and there are a lot of entertaining 105ers that are heavy hitters, they're fast, they're good submission artists. So yeah, I think they should definitely add it."
Waterson did offer a bit of a jab towards Cyborg as she finished the interview saying,
"I think there are more atom weight fighters than there are fighters in Cyborgs weight class. They have a weight class for her"–despite the fact that her teammate Holly Holm has fought for two world titles in the Featherweight division, and is getting set to face the number one contender Megan Anderson.–while the UFC has been reluctant to sign Featherweight fighters, Bellator and Invicta FC has split the roster of current prospects, fracturing the division, giving Holm these opportunities despite a 1-4 record over her past 5 fights.
Waterson went back to the interview by concluding that, "100 percent it should happen and it eventually will" when talking about the introduction of the Atomweight division.  Cyborg Nation knows Cris Cyborg has campaigned for an equal number of weight division for the female fighters as the men currently enjoy in the UFC. You can read her full interview exclusive here