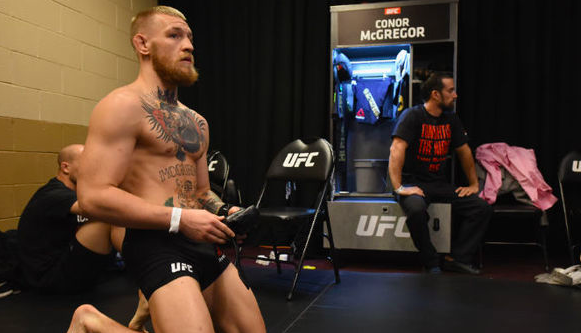 All Eyes will be on Brooklyn New York for UFC 223.  The rumor is Conor McGregor himself will be attending the event and is flying in to watch the fight between Tony Ferguson and Khabib Nurmagomedov for the UFC Light Weight 155lbs championship belt.
Conor McGregor who made history becoming the first fighter to ever hold 2 UFC Championship belts, will make history again when he becomes the first UFC fighter to vacate two belts.  The winner of Tony Ferguson Vs. Khabib Nurmagomedov will be the UFC Champion, currently Tony Ferguson is the Interim champion, once the bout officially starts Conor McGregor will have been stripped of his LW title.
While the bout between Khabib and Ferguson is scheduled for UFC 223, the bout has been scheduled twice before, once Khabib had complications with the weight cut, and the other time Ferguson was injured unable to compete.  Conor McGregor, seems to want fans to know however that if there is anyone who falls out of the UFC 223 main event, that he is ready…which would lead everyone to believe he is ready to step up is a replacement if there are any complications with the Khabib Vs Ferguson bout.
Stay ready.

— Conor McGregor (@TheNotoriousMMA) March 24, 2018

If you are looking to start off the summer right, get started with my functional meal and diet plans. Working together with the creators of the Better Human App we have developed an easy and convenient shopping list and meal plan that will help you reach your micro and macro intake needs. To get your hands on the plans, click here!