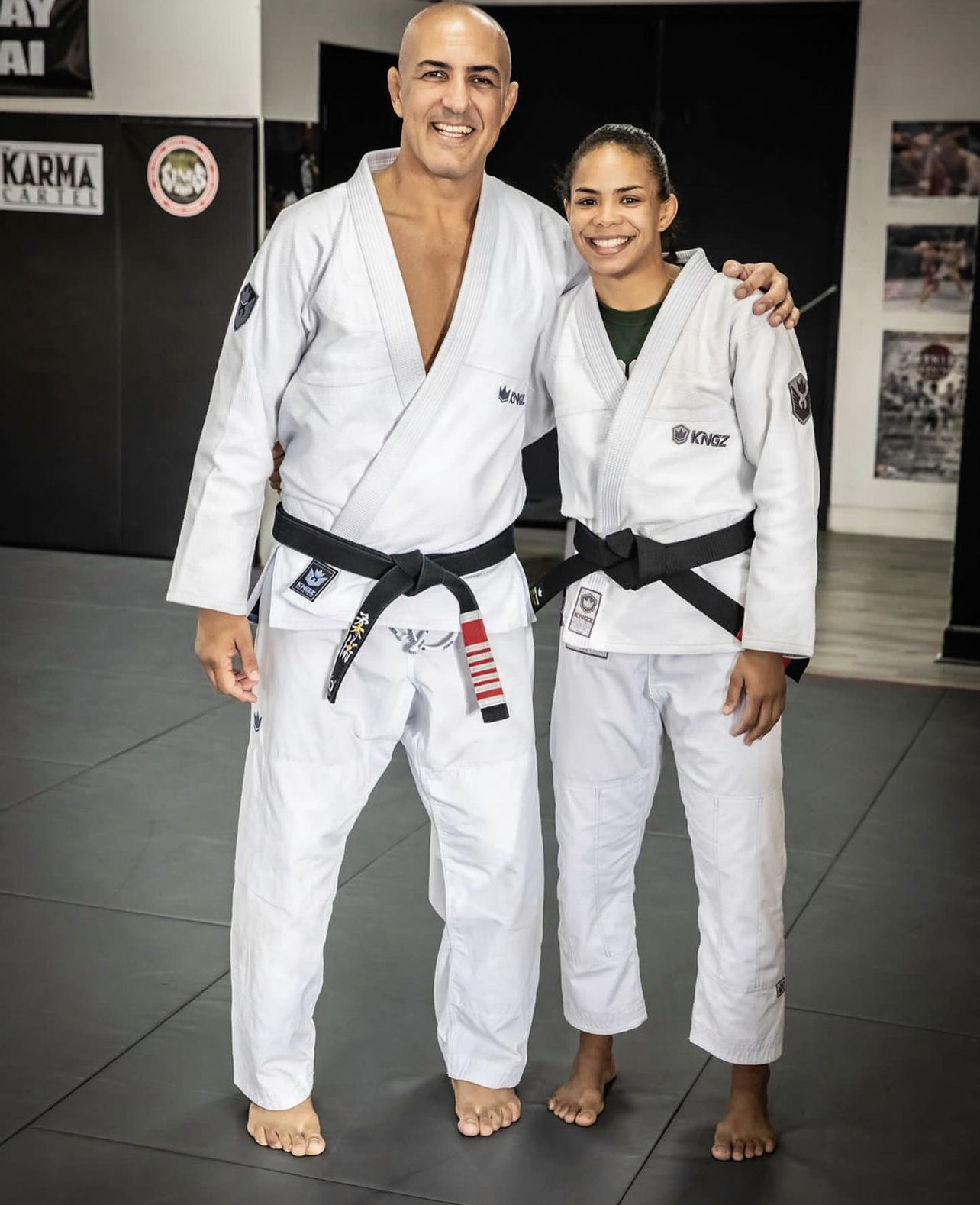 Cyborg Nation give a big welcome to LFA fighter and former Brazilian Olympic team member Dione Barbosa who recently received the rank of Brazilian Jiu Jitsu under King's MMA head BJJ Coach Ricardo Testai who is currently a 4th degree Brazilian Jiu Jitsu Black Belt.  Barbosa who has competed in grappling since a young age has competed in several of California's top Jiu Jitsu World League competitions earning Gold Medals in the female black belt divisions.  Losing a controversial decision at LFA 118 against ADCC competitor and BJJ Black Belt Nov 12th of 2021, Dione Barbosa has been actively training despite LFA's inability to secure her a fight in the female flyweight division in over a year.
Considered a top prospect at Flyweight, Barbosa has a professional record of 3-2 with her most recent defeats coming against the 9-1 UFC veteran Josiane Nunes and undefeated 4-0 Jena Bishop who most recently signed with Bellator MMA.   Expected to compete on a December LFA fight card, fans of Dione Barbosa are anxious to see the grappling sensation get the opportunity to showcase her improvements inside of the cage when she is able to highlight her abilities during her next MMA fight. Skilled in Striking, Grappling, and Takedowns Barbosa is still young having just recently turned 30 years of age and is expected to showcase herself in the LFA Flyweight division before moving onto a larger promotion like the UFC or Bellator MMA.
Fans of Cris Cyborg will recognize Dione Barbosa from the Technique Thursday videos as she filmed them for season 2 with Cris Cyborg going over the basics of Judo.  Cris Cyborg has worked with Dione Barbosa who is a member of King's MMA for training camps against Leslie Smith, Sinead Kavangh, and Arlene Blencowe. Cris Cyborg recently tied Julia Budd as most defenses of the female featherweight world championship belt.  Cyborg is considered MMA's only Grand Slam Champion having won the belt with Strikeforce, Invicta FC, UFC, and Bellator MMA making her the most dominate Featherweight of all time which included a historic 14 year unbeaten streak.