Joanna Jedrzejczyk has lost two in a row against the same opponent, after being KO'd in the first bout against Rose Namajunas the two ran the fight back at UFC 223 and while Joanna Jedrzejczyk did better, at the end of the fight the judges scored 4 rounds to 1 for the Thug Rose, eventually announcing her #ANDSTILL following the fight.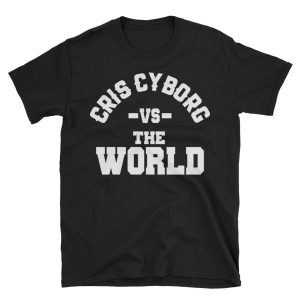 Joanna at the press conference said, "I was the champion for a reason, for a long time, I think there is not BORN YET a female fighter who can tie Ronda Rousey's record or my record"–talking about her successful 5 title defenses in the UFC.
Cris Cyborg has two successful title defenses after wining her 145lbs UFC title fight against Tony Evinger at UFC 214.  Defending the title against Holly Holm and then again on short notice against Yana Kunitskaya, Cyborg is expected to defend her belt against in July at UFC International Fight Week against either Amanda Nunes or Megan Anderson depending on availability.
Cyborg who has not been defeated in 13 years is the only female fighter in MMA to capture 3 major titles in 3 major promotions.  Winning the UFC Belt, Invicta FC Belt, and the Strikeforce FC Belt at 145lbs, Cyborg has captured every major promotional belt at 145lbs accept the Bellator MMA title.  Will we see Cris Cyborg prove Joanna Ex-Champion wrong by winning 3 more bouts to tie the record for title defenses set by Ronda Rousey and tied by Joanna Jedrzejczyk
https://youtu.be/WWt9Ifp1Sec