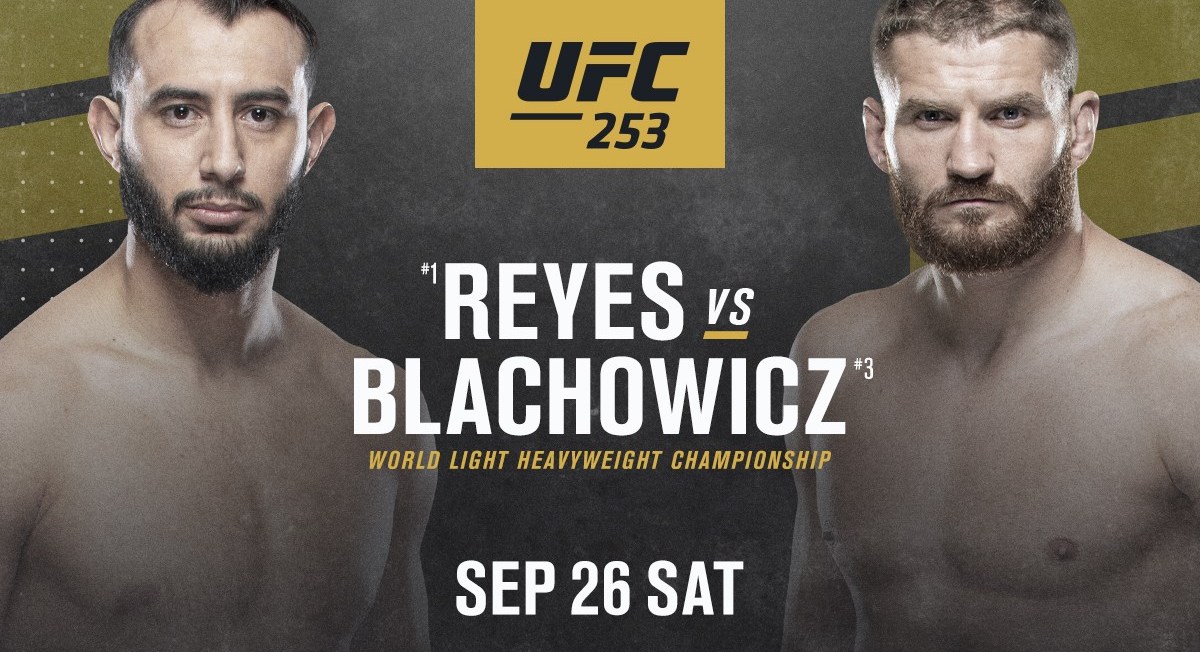 Blachowicz-Reyes Title Bout Could Steal Show at UFC 253
Trash-talking and combat sports have gone hand in hand ever since opposing fighters were willing to set out against each other in hand-to-hand battles.
That being said, the back-and-forth rhetoric being dished out by world middleweight champion Israel Adesanya and Paulo Costa, his opponent at UFC 253 on Sept. 26, has not, as Charlestown Chiefs play-by-play man Jim Carr pointed out in the cult classic Slap Shot, been kept "within the boundaries of good taste."Adesanya has accused Costa of being a steroid user. He's mocked the 200-pound Brazilian for his past struggles to cut weight to make the 185-pound middleweight limit. Adesanya even suggested he could distract Costa inside the octagon on fight night by querying him to answer the question of what two plus two equals.
Costa countered these allegations by mocking Adesanya's lanky physique, comparing the Nigerian-born, New Zealand resident to a string bean. 
The two unbeaten fighters – Adesanya is 19-0 (8-0 in UFC) and Costa is 13-0 (5-0 in UFC) – are the featured match for UFC 253 – but as much as this battle is being hyped, MMA fans would be wise not to sleep on the co-main event. That's a showdown for the world light heavyweight title. Jon Jones vacated the title, announcing plans to move up to the heavyweight division.
Dominick Reyes (12-1, 6-1 in UFC) will take on veteran Jan Blachowicz (26-8, 9-5 in UFC) for the title. Reyes comes into the bout off a close and some would say controversial decision loss in a tilt against Jones for the title. Blachowicz, 37, has won his last three fights. He knocked out Corey Anderson in his most recent test inside the cage.
Mutual Respect
Photo by Combat Meraki from Flickr
Reyes is heavily-favored to take this bout and with it, the title some thought he'd wrested from Jones in his last bout. However, overlooking the potential for an upset here would be foolish. Reyes certainly isn't taking anything for granted. While Adesanya and Costa have devoted much of the promotional time leading up to their bout holding each other in contempt, there's nothing but mutual respect among the combatants for the light-heavyweight title. 
"It's interesting, Reyes told MMA Junkie of Blachowicz's career path. "He's getting older and getting better. How often does that happen? He is, he's getting better."
After a disappointing 2-4 start in UFC, Blachowicz has won seven of his last eight fights. The Polish fighter's punching power can prove devastating to his opponents. Two of Blachowicz's last three victories ended via knockout. 
"His striking is very good, his counters are very good, he's really sharp," Reyes said. "Very sharp guy and he's powerful. He throws with power and throws with a lot of intent."
On his way up the ladder in the 205-pound weight class, Reyes just assumed that one day, he'd find himself staring across at Blachowicz inside the octagon.
"I've had my eye on Jan for about three years now as a guy I knew I was going to cross paths with for sure," Reyes said. "I've been keeping my eye on him. He's a great fighter, man. 
'It's a heck of a challenge. Definitely worthy of a title fight, absolutely."
Blachowicz also extended words of respect toward Reyes.
"I'm just happy the fight will be for the title," Blachowicz said. "Dominick Reyes is also a really good fighter, one of the best in the world, so we both deserve to have this chance and we got it"
Fight Of The Night
Photo by Combat Meraki from Flickr
During his 7-1 run of success, Blachowicz's bouts have earned Performance of the Night four times and Fight of the Night once. Two of the last seven fights involving Reyes also garnered Performance of the Night recognition.
There's an underlying current of belief that as much as the pairing of two unbeatens for a world title like Adesanya and Costa is intriguing, the bout that could create the most fireworks is Blachowicz-Reyes.
"I think we're going to steal the show, we're going to be banging," Reyes said. "He comes to bang, bro. I don't know if you know this, but Jan comes to fight. And I don't know if you know this, but I love to fight.
"We're going to throw down. We're definitely going to throw down."