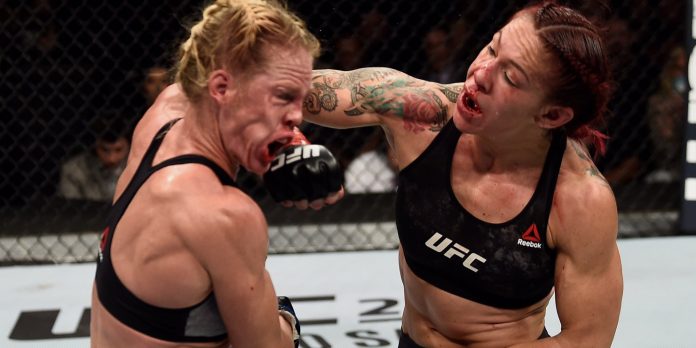 Even though Cris Cyborg has already fought her teammate at UFC 222, Holly Holm has yet to watch film of her own loss to the champion as the main event of UFC 219 inside the Tmobile Arena for the UFC 145lbs championship belt.
Speaking to Ariel Helwani on The MMA Hour, Holm said that "If I get back into training camp, I probably will." when talking about watching her own fight against Cris Cyborg.  Holm went on to say, "I've seen clips here and there. Mostly highlights of her hitting me, basically that's how it went in that fight. But I know I had some good moments, there were a couple times I hit her with some good solid shots and I just felt like, you know, in the clinch I was doing some good things. There's always some things to build on. It always takes me awhile to go back to my fight"."
Cyborg's most recent opponent Yana Kunitskaya is a training partner of Holly Holm's at the JacksonWink MMA academy in Albuquerque New Mexico.  Cris defeated Yana via TKO in the first round of UFC 222.  Holm had this to say, "We're mostly just good training partners, you know?" She went on to say, "I try to be there every day, be a sparring partner for her, be a grappling partner for her. There aren't a lot of girls our size obviously, we're the only two girls at that weight, so I just try to make myself accessible to whatever she needs."
Holm didn't have any mention as to wether her next fight would be at 135 or 145lbs however she did mention that she would like that fight again somewhere down the road. saying
"I really don't think that can be my next fight, I bet you it will be something else. I don't know what it might be, maybe 135, maybe 145, I'm not really putting too much into thinking it has to be one way or the other. I guess it's just one of those things that I always want to beat the unbeatable, I guess."
"I want that fight back I know it's a lot of work and the biggest women's fighter in all the divisions of the UFC, but, it's also I feel like I can do it and I want to do it again."

For a limited time, try to Eat To Win diet and nutrition plans developed by Cris Cyborg working with the Better Human App to bring flexible reliable eating to all of Cyborg Nation.  Get your Diet Plans HERE!