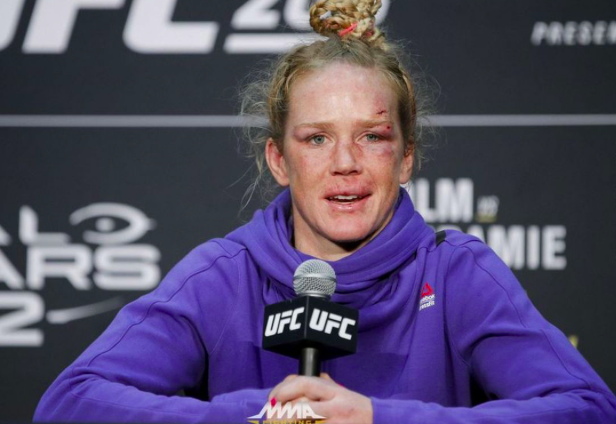 Holly Holm is 11-4 overall as a professional in MMA, but since coming over to the UFC has struggled to find the same results.  Going 4-4 in her first 8 UFC fights, Holm has had a rough patch of late dropping 3 of 4.
Holm who will be fighting Megan Anderson in her UFC debut at UFC 225 in Chicago recently sat to talk to KRQE "I KNOW I GOT FOUR LOSSES OUT OF THE LAST FIVE FIGHTS. I LIKE TO ALWAYS BE HONEST WITH MYSELF SO THAT I DON'T MAKE EXCUSES. A LOT OF THOSE FIGHTS I COULD HAVE DONE MORE TO MAKE THEM VICTORIES SO THAT'S WHAT I WANT TO DO.
I PRETTY MUCH DO FEEL MAKE OR BREAK. I FEEL LIKE THAT WITH EVERY FIGHT IN A WAY BECAUSE I WANT THAT FOR MYSELF. I WANT VICTORY THAT BAD. SO YES IT IS MAKE OR BREAK, WHETHER IT BE FOR HOW OTHER PEOPLE SEE ME OR JUST FOR MYSELF. I WANT TO DO THIS FOR ME."
Holm who got a title shot for the inaugural belt at UFC 208 despite a loss to Flyweight Valentina Shevchenko at UFC on Fox 20, will be competing in a number one contender bout.  Holm has had 6 of her 8 fights in the UFC be number one contender or title bouts. A win over Megan Anderson could see Holy Holm vs Germaine De Randamie as Ultimate Fighter season 29 coaches, with the winner getting an opportunity to fight Cris Cyborg.