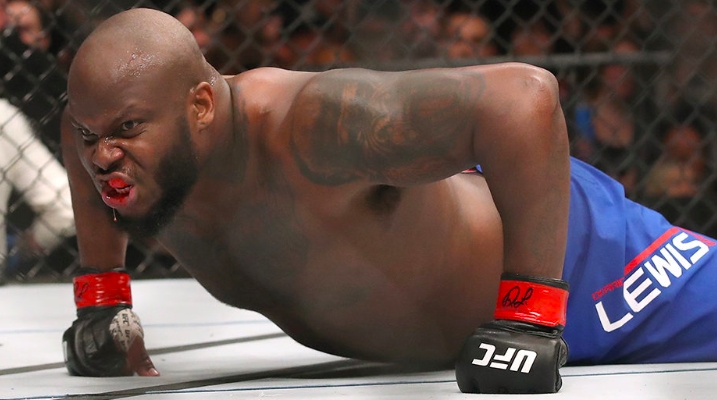 The black beast, AKA Derrick Lewis was recently on the MMA Hour talking with Ariel Helwani about his upcoming fight at UFC 226 against former champion contender Francis Ngannou in a bout that will take place July 7th inside the T-mobile arena in Las Vegas.
"Everybody, no matter what I post on my Instagram, it don't matter what I post, they'll talk about, 'man, you should fight Francis. I think you and Francis would be a good fight.' Everybody's been saying this for years and I've been saying the same thing too, It will be a good fight," said Lewis.
Lewis who is 7-1 in his last 8 fights with is one loss coming to Mark Hunt went on to say, that with the win he thinks he's next in line for a UFC title shot, "I believe so," he said. "It makes the most sense. Stipe has really beat just about everybody in the top five anyway, so it wouldn't really make sense for them to get the next shot besides me or Francis because he's the number one contender. Everyone else is really not even worthy enough to fight Stipe again."
UFC 226 will also feature a super fight between UFC light heavyweight champion Daniel DC Cormier Vs Heavyweight champion Stipe Miocic.  Cris Cyborg has been rumored for the event as well however with Amanda Nunes, Holly Holm, and Megan Anderson all scheduled for fights, it appears unless Nunes wins easily next weekend, Cyborg will be without a fight for UFC 226.
"Eventually, I knew that it was going to get done, even though he took long enough to respond to the contract that they gave him because they sent the contract out to him a week after my last fight once I told them I'd like to fight him."
Here is the UFC top 10:
C. Stipe Miocic
1. Francis Ngannou
2. Alistair Overeem
3. Alexander Volkov
4. Curtis Blaydes
5. Fabricio Werdum
6. Derrick Lewis
6. Mark Hunt
8. Marcin Tybura
9. Andrei Arlovski
10. Aleksei Oleinik