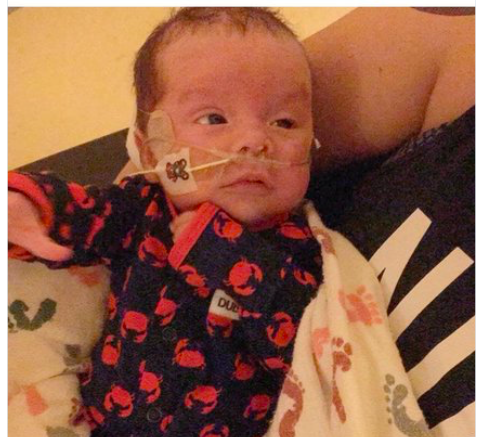 We are thrilled to share the news of baby Ray Borg's gradual improved healthy!  After father Ray Borg, a UFC fighter had his bout canceled at UFC 223 following the assault by Conor McGregor which shattered the bus windows of the UFC transportation bus he was in caused injury, Ray Borg was removed from UFC 223 and his subsequent paydays.
Ray Borg then went on to have his bout rescheduled for UFC Chile, however when complications to his new born arrived he stepped out of the bout to own up to his fatherly duties and care for his family.  Baby Ray Borg was born with Hydrocephalus a condition which required brain surgery.  It was originally ruled a successful surgery, however additional medical procedures were needed  which resulted in him and his wife staying by his new born babies side for over a month at a children's hospital in Colorado.
With 55 days in the NICU and 29 of those days in Denver, it is clear to say Ray Borg is relieved by the news that his baby is healthy enough to be taken home.  Ray Borg supporters had started a Go-Fund me to help the family through he difficult times, with many UFC fighters donating to the cause.  While Conor Mcgregor has not publicly donated in support of the cause, it is unknown at this time if he has given privately.  To visit the Go Fund me click here.
Update: 5/25/18 pic.twitter.com/bCX0ewK5nh

— Ray Borg (@tazmexufc) May 25, 2018
Update: 5/18/2018 pic.twitter.com/P39Mwoh4mh

— Ray Borg (@tazmexufc) May 18, 2018