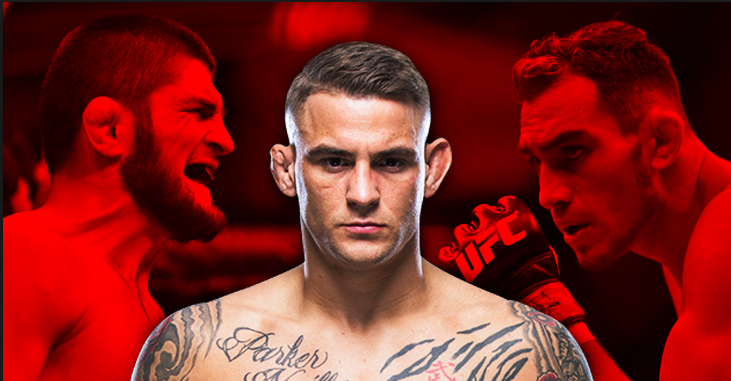 Khabib Nurmagomedov fought last week winning a 4 round fight against Raging Al at UFC 223 after originally being scheduled to fight Tony Ferguson who was then injured, and replaced by Max Holloway, who was unable to make the weight cut on short notice and then replaced by Al Iaquinta.
Dustin Poirier a veteran of over 20 fights in the UFC fought this weekend, and beat former World Series Of Fighting Champion Justin Gaethje by TKO in the fourth round.  Gaethje an Arizona native fought bravely in front of his home crowd, however abandoned his wrestling and was hurt badly on the feet when the ref stopped the fight.
Poirier has officially won two in a row, but had a bout with Eddie Alvarez turned into a NC in a moment of the fight where it looked like he was starting to take over as he threw a knee to the head of a downed Alvarez. A KO Loss to Michael Johnson at UFC FN 94 is 2016 broke up a 4 fight win streak.  Poirier has been a top ten fighter in two different weight classes and made his UFC debut in 2011 but has never had a shot at the UFC title.