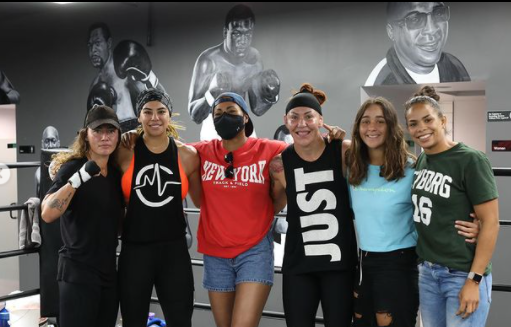 Cris Cyborg is a world MMA champion, today fighting in Bellator. Cris Cyborg has 4 different belts including  a Bellator, UFC, Invicta and Strikeforce belt.  Cyborg was born in Curitba, Brazil and now lives in Huntington Beach, California. Cris started to get involved in sports when she was around 15, she started with Handball and one day a MMA coach from a well known gym in Brazil named Chute Boxe saw her training  and asked her to participate in one of the practices, she did and ended up falling in love with it. Cris Cyborg has a passion for animals and is the owner of Two dogs, a Bengal cat, a mini pig,  a Maine Coon and multiple Fish & Birds at Cyborg's zoo. This week on Thursday Cyborg went to spar in Los Angeles with Mari Cornejo and Elvina White who is number 3 in the United States in her weight class for boxing. 
Maricela Cornejo is a women's professional boxer know all throught America. Cornejo is cuttently holding the WBC international female super middleweight title, she won the title in 2015 against a really good opponent Latashia Burton at Mana Studios in Miami, Florida. She is 34 years old and was born in April 16, 1987. 
Elvina Hadzic White is number 3 in the United States for her division in boxing which is super lightweight and she is on the top 30 in the world in her weight class. She is 27 and was born in Los Angeles, California. Cris Cyborg, Maricela Cornejo and Elvina WHite sparred togeher yesterday at a great gym in LA named Bluemoon and also well known in Los Angeles. If you want to know more about the granslam champion Cris Cyborg, her trainings, her personal life, fight camps, preparation for fights, Cyborg Nation events, PinkBelts,  her pets and  more follow her on Instagram, Facebook, Tiktok, her Youtube channel which is called Cris Cyborg.
And if you want to know more of the PinkBelt camps make sure to stay tuned on the website and on social media for more info about the camp!