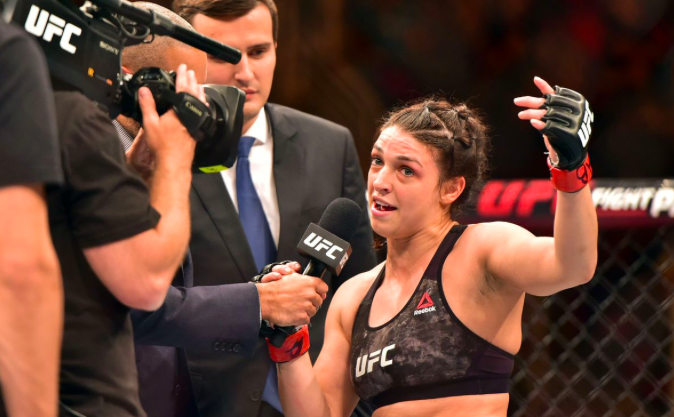 The UFC is the professional leagues, and widely considered the biggest stage for any athlete in combat sports to compete on.  Mackenzie Dern officially entered into the UFC top 15 rankings with her win at UFC 224, however this didn't sit well with several fighters, and many fans as Dern missed he straw weight limit of 115lbs by 7 pounds weighing in closer to the flyweight division than she was to the straw weight class which she is now ranked as #15 at.
Speaking to Ariel Helwani on The MMA Hour, Dern had this to say,"It's kind of crazy. I see people putting hamburgers in my hands. I want to take it serious and I want to show that this won't happen again, but with some of the memes and stuff I have to laugh. It's kind of crazy.As soon as I arrived the UFC weighed us and I was 138 and she was 134 or 135, so as soon as I saw that I thought, 'She's almost my size'. I knew my right punch was strong from the times I hit her, but I didn't feel so much heavier or something. I wasn't thinking about the weight anymore. I want to stay at strawweight. Hopefully, with the help of UFC Performance Institute it will be a lot easier and it will all be under control. If they told me, 'It's not good for you to fight at 115', then I would go to 125. I've made 115 before, three times, so I think it's a better weight for me. I can guarantee [that I won't miss weight again]."
Having already missed weight 3 previous times while trying to make the 115lbs weigh limit, it is clear that Dern struggles with the steps needed to compete in that weight class without severe dehydration.  It appears as if the UFC is going to invest in her nutrition and diet coach as she will be heading to the UFC performance institute in Las Vegas to receive professional guidance on her weight loss and nutrition ahead of her return to the UFC.
Current plans are for Dern who was able to remain undefeated at 7-0 to continue attempting to compete in the 115lbs weight division despite her 3 failed weigh in attempts for this weight class already.  A Brazilian Jiu Jitsu world champion both in the Gi and nogi Dern is one of the most credentialed grapplers in the sport of MMA.