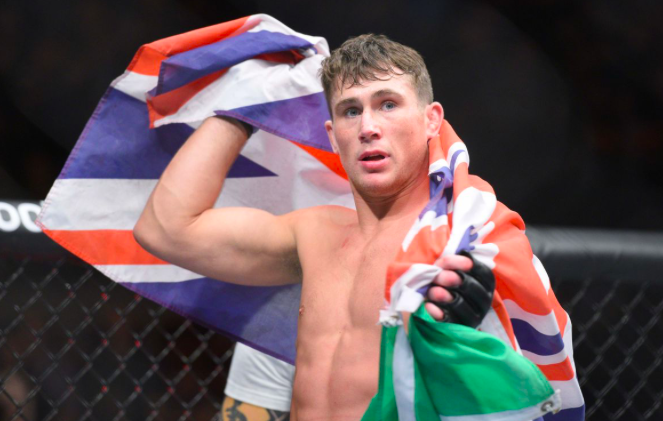 Darren Till took the UFC to Liverpool, filled an arena, and after a very close fight against #1 contender Stephen Wonderboy Thompson was declared the winner.  The fight however was very close, and with the bout taking place in Till's backyard, many critics called it a hometown decision, especially considering Till missed the contracted weight of 170 lbs by almost 5 pounds.
Till who has a pregnant girlfriend who was hospitalized during the week of the fight, forfeited 30% of his fight purse, and even though he was given the win, doesn't feel he should jump the line over Wonderboy when it comes for a title fight. Instead of calling for a championship fight, Till mentioned Usman and on Monday while talking to Ariel Helwani with The MMA Hour said he would give Wonderboy an immediate rematch.
"I know Stephen said he needs to check his knee and that, but you've got all these experts out here saying this, saying that, [saying that I won] because it was in Liverpool, If anyone wants me to go to America and fight Stephen again, [and] Stephen definitely wants it and he's not injured, I can do that as soon as possible, that rematch. Obviously, there are other guys that I want to fight as well, but let's show all these critics," Till continued. "It's probably going to be the same fight, definitely going to be the same outcome again. Maybe I can be more aggressive and knock him out this time. You'll see. That's what I'm thinking. I missed weight so I don't feel I deserve a title shot anyway," Till told the media after his win. "I missed weight. So there you go, right away. I don't deserve it. I feel like Stephen deserves it. Whoever wins out of the interim [title fight between Rafael dos Anjos and Colby Covington at UFC 225 should fight] maybe Stephen or [Kamaru] Usman. They deserve it more… I still want to beat them all in the division. I want to come back and put that weight thing behind me."
Wether the UFC books the immediate rematch or not is one thing to be seen, however Till kept is unbeaten streak in tack, and when asked by Dana White in the UFC Liverpool post presser what was next, White implied a trip to the USA for a fight in Las Vegas was next for Till.  Will we see Wonderboy Vs Till 2 take place in Las Vegas this summer?